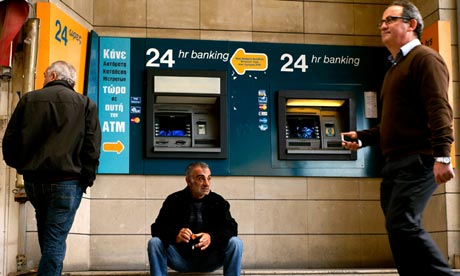 An empty ATM at Bank of Cyprus. The island is reportedly preparing emergency restrictions on cash withdrawals before banks reopen. Photograph: Milos Bicanski/Getty Images
Cyprus is reported to be rushing in emergency measures to stop cash flooding out of the country if it reopens its banks as planned on Thursday. The banks have been shut for 12 days while the nation negotiated a €10bn bailout.
According to reports coming out of the stricken island, restrictions will be placed on the amount of cash that can be withdrawn from the banks where savers with more than €100,000 in their accounts face losing a slice of at least 40% of their money.
It is thought anyone leaving the island will not be able to take any more than €3,000 of banknotes with them and will be able to spend no more than €5,000 a month abroad on credit cards.
The government is reported to believe that the measures only need to be in place for seven days while it attempts to stabilise the situation following the fallout from the bailout agreed with Brussels, the European Central Bank and the International Money Fund.
Withdrawal limits on cash machines had already been restricted to €100 a day although there were suggestions that this could now be raised to €300 by the time the banks open again.
The island's second biggest bank, Laiki, is to be closed down and savers with less than €100,000 transferred to Bank of Cyprus, the largest bank in the country. Depositors with more than €100,000 in their accounts – the level at which savings are guaranteed across Europe – face a levy to raise billions of euros towards the bailout.
Cheques cannot be cashed although banks will accept deposits as the country struggles to keep deposits in its banks, that have exploded to eight times the size of the economy.
Families with members studying aboard are reported to be able to send €10,000 a term to those who are studying.
The security firm G4S is ready to send 180 staff to all bank branches across the island, John Argyrou, managing director of the firm's Cypriot arm, told the Associated Press.
The banks were closed a week ago on Friday shortly before Cyprus announced the terms of its bailout which included skimming all savers to raise €5.8bn. But the terms have since been altered to ensure that those with less than €100,000 in their accounts are not forced to take a cut, in a move that the European authorities hope will restore faith the bank guarantee scheme across the 27 nations in the EU.