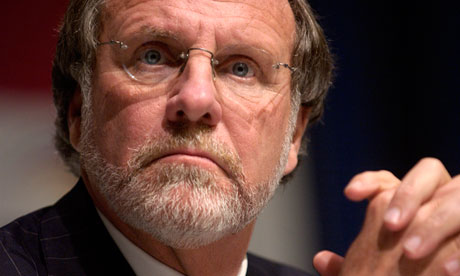 Jon Corzine spent 20 years on Wall Street and was one of President Obama's top fundraisers. Photograph: Chip East /Reuters
US regulators have charged Jon Corzine, former MF Global boss and New Jersey governor, over the alleged misuse of over $1bn in customers' funds.
The Commodity Futures Trading Commission (CFTC) suit charges Corzine, the company and former assistant treasurer Edith O'Brien in the collapse of the commodities broker, the eighth largest bankruptcy in US history.
The hard-hitting CFTC suit produced emails and transcripts of phone calls it said show Corzine's culpability. In a separate action MF Global agreed to repay all $1bn missing from customer accounts plus a $100m penalty, and pay all the funds still owed to commodity customers.
The news is the latest blow to the reputation of Corzine, a Wall Street veteran and one of president Barack Obama's top fundraisers. Corzine spent 20 years on Wall Street and was co-chairman and chief executive of Goldman Sachs before going on to represent New Jersey as a senator and then governor.
Andy Levander, counsel for Corzine, said: "This is an unprecedented lawsuit based on meritless allegations that Mr Corzine failed to supervise an experienced back-office professional who was located in a different city and who did not report to Mr Corzine or even to anyone who reported to Mr Corzine.
"After 20 months of thorough investigations by the Department of Justice, two bankruptcy trustees, and the CFTC, no evidence has been found that contradicts Mr Corzine's sworn testimony before Congress.
"Mr Corzine did nothing wrong, and we look forward to vindicating him in court."
The suit is highly unusual, as US regulators tend to prefer a settlement to a lawsuit, and the case could potentially drag on for years.
"Turning a profit is not the only job of the person at the top of a CFTC-regulated firm. Particularly in times of crisis, the person in control, like the CEO here, must do what's necessary to prevent unlawful uses of customer money, so that customers' money is still there if and when the music stops," said CFTC enforcement director David Meister in a statement.
MF Global collapsed in October 2011 as its bets on some of Europe's most troubled economies turned sour. According to the complaint, Corzine, who joined MF Global as CEO in March 2010, planned to transform the firm from a futures broker into a major investment bank. "Corzine's strategy called for making increasingly risky and larger investments of the firm's money," said the CFTC. In late 2011 the regulator alleges "MF Global's need for cash was rising and its sources of cash were diminishing."
As the cash crunch approached Corzine failed in his duty to ensure that clients money was ring-fenced from the broker's funds, said the regulator. "Ultimately, these failures contributed to the massive customer losses," said the CFTC.
In one of many recorded phone calls obtained by the CFTC, an executive at the firm said MF Global was "skating on the edge," without "much ice left." The CFTC said Corzine was warned of impending disaster. In another call obtained by the CFTC an executive said: "We have to tell Jon that enough is enough. We need to take the keys away from him."
Corzine and O'Brien could face fines and possibly a ban from trading commodities if they are found liable. Corzine has indicated that he will fight the charges. When news of the suit was first reported by The New York Times this week a spokesman for Corzine called the suit an "unprecedented and meritless civil enforcement action." The spokesman said the anticipated lawsuit "is not surprising considering the political pressure to hold someone liable for the failure of MF Global."