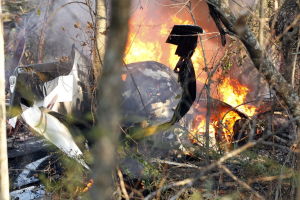 2 images
An airplane crash near 8800 block of East 98th Street North in Owasso Nov. 10, 2013. MIKE SIMONS/Tulsa World
By JARREL WADE, KENDRICK MARSHALL and DYLAN GOFORTH World Staff Writers|Updated 20 hours ago
OWASSO — Dr. Perry Inhofe, the son of U.S. Sen. Jim Inhofe, died in a fiery plane crash near Owasso on Sunday, according to multiple sources who asked not to be identified.
Neither law enforcement sources nor the Senator's office would confirm or deny Perry Inhofe's death on Monday.
Other sources, however, including family friends and government officials, said Perry Inhofe died in the crash.
Perry Dyson Inhofe would have celebrated his 52nd birthday on Monday.
The plane that crashed Sunday is a Mitsubishi MU-2B-25 twin turboprop that was built in 1974, according to Federal Aviation Administration records.
A National Transportation Safety Board briefing Monday evening confirmed that one person was on board and died in the wreck.
Officials said the post-crash fire has slowed the state Medical Examiner's Office's attempts to positively identify the pilot.
The Medical Examiner's Office is working with the "presumed" pilot's family "to assist in expediting that process," said Aaron Sauer, an NTSB aviation investigator.
The fire consumed a majority of the aircraft, he said. Despite the blaze, investigators are confident that they can retrieve the necessary information to determine the cause of the crash, Sauer said.
"It's certainly too soon to speculate on any type of cause," he said Monday.
Investigators will determine the cause by looking at three things, Sauer said: man, machine and environment.
Questions about the pilot that will be considered include "What is his training? What is his experience? What is his background?" Sauer said.
Perry Inhofe, an orthopedic surgeon, was a licensed pilot and flight instructor, according to FAA records.
Federal Aviation Administration records show transaction receipts that indicate that his company, Anasazi Winds LLC, recently bought the aircraft from a company in Utah.
On Monday morning, the World attempted to call the Utah company's owner, Joseph L. Timmons. A woman who answered confirmed that Timmons had sold the plane in September.
Records indicate that the plane was one of at least two registered to Perry Inhofe's company.
Several people witnessed the crash, and the plane was seen burning on the ground after it went down about 3:40 p.m. Sunday in a heavily wooded area near the 8800 block of East 98th Street North. Smoke from the crash was visible from miles away.
According to FlightAware, a flight tracking website, the plane took off from Salina, Kan., and was en route to Tulsa International Airport on a 43-minute flight.
The plane had been traveling at speeds in excess of 300 mph before decelerating at 3:43 p.m. According to FlightAware, the plane's speed dropped to 98 mph at 3:44 p.m. In the final recorded data, the plane was flying south at 110 mph at 3:50 p.m. at an altitude of 1,100 feet.
The flight first deviated from its south and southeast direction at 3:44 p.m., according to FlightAware.
The plane headed northeast and then west at 3:45, increasing its speed to 117 mph.
The final five entries FlightAware reports are between 3:45 and 3:50 p.m. and indicate that the plane remained traveling at a speed of 110 mph at an altitude of 1,100 feet.
The aircraft's most recent flights before Sunday were Sept. 15, Sept. 12 (two flights), Aug. 21 and Aug. 19, according to FlightAware.
The Sept. 15 flight was from Salt Lake City, where the previous owners lived, to Tulsa International Airport. It is unclear from the records how the plane got from Tulsa to Salina before Sunday's crash.
Justin Allison of Tulsa was flying a plane minutes behind the one that crashed and said he heard air traffic controllers report that a plane in front of him had experienced engine failure.
Allison said he, his wife and their 10½-week-old child were 90 seconds from landing when officials directed them to elevate from 2,500 feet to 5,000 feet and remain in a holding pattern.
"I couldn't hear the pilot, but I heard the tower declare an emergency for him, which is a red-flag raiser, because usually the pilot will declare the emergency," Allison said. "It makes you wonder what was going on in that cabin."
General Aviation News, a Wisconsin-based publication, reported in September that three generations of Inhofes — Jim Inhofe, Perry Inhofe, and Cole Inhofe — were pilots.
FAA records show that Perry Coleman "Cole" Inhofe, the son of Perry Inhofe, received his student pilot license in June.
Perry Inhofe graduated from Duke University in 1984 and attended medical school at Washington University in St. Louis, according to the Oklahoma Surgical Hospital's website. He is a hand surgeon with Central States Orthopedics in Tulsa, according to the organization's website.
On the website, a video shows Perry Inhofe explaining how he grew interested in his profession.
"At the time, I wasn't interested in medicine. I was an engineer. I liked electrical engineering," Inhofe said about his undergraduate work in the video. "While I enjoyed most subjects that I studied (in medical school), my interests remained with engineering and with the mechanical applications to the structure of the body."
Jim Inhofe serves on the Senate Armed Services Committee, and Defense Secretary Chuck Hagel released a statement Monday, saying: "I was deeply saddened to learn that Senator Jim Inhofe's son Perry was killed in a plane crash this weekend. My thoughts and prayers are with Jim and (his wife) Kay and their family as they mourn this terrible loss."
Tulsa Mayor Dewey Bartlett also sent a statement of condolences to the Inhofe family Monday afternoon.
"It is with deep sorrow that we give our condolences to Tulsa's former Mayor Jim Inhofe and his family," Bartlett said in a statement. "Dr. Perry Inhofe was a man of great integrity, skilled as a surgeon, and an example for all of us."