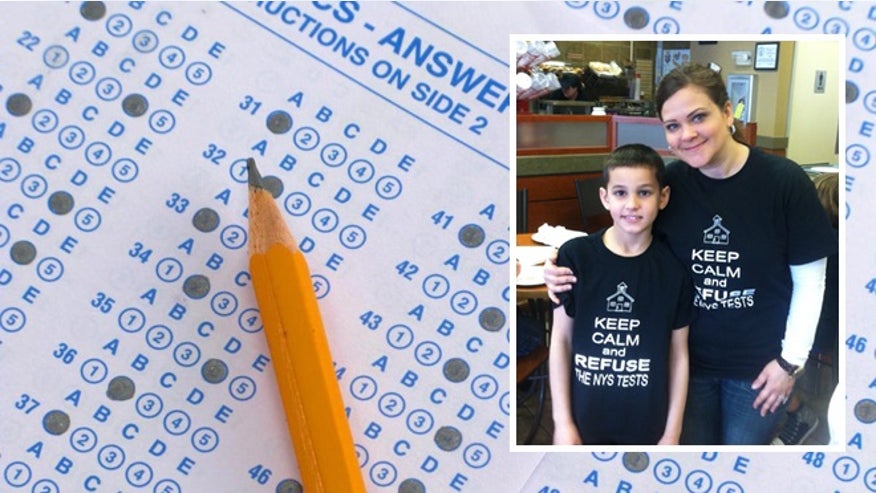 Heidi Indelicato plans to take son Benjamin to the library during this week's Common Core testing sessions.Courtesy of Heidi Indelecato
While her son's fourth-grade classmates were taking the nation's first round of tests under the controversial Common Core program, Heidi Indilecato decided to teach her son a lesson in civil disobedience.
"We respectfully refuse to participate in the test," said Indelicato, whose son Benjamin attends school in Lancaster, N.Y., which on Tuesday became the first state to administer testing under the Common Core State Standards Initiative.
So while other kids sat poised with their No. 2 pencils above Scantron sheets, Benjamin studied with his mother, who documented the occasion with a picture of the pair wearing T-shirts that read: "Keep calm and and refuse the NYS tests."
"We respectfully refuse to participate in the test."
- Heidi Indelecato, mother of a fourth-grader
Common Core was adopted by 45 states, although Indiana withdrew last month. The set of standards, devised by the nation's school superintendents at the behest of the National Governors Association, seeks to set a uniform standard for grades K-12, to ensure kids all over the nation reach the same minimum level of learning.
The program involves testing of students in grades 3-8 and high school testing is scheduled to begin next year.New York implemented the standards a year early.
Critics say the standards end up dictating curriculum, and thus taking power away from local districts and parents. They also claim that textbooks and lesson plans aligned with Common Core have become politicized. In addition to Indiana, measures have been introduced in several state legislatures to opt out or scale back participation.
Indelicato, a member of the parent group NYS Allies for Public Education, said she has been picking up her son at the beginning of the testing sessions and going to the library, where they review reading arts and math as well as lessons in the civil disobedience of such historical figures as Rosa Parks.
"I feel like I'm teaching him leadership and strong self-confidence, qualities that I feel are good for the development of a young child," she said. "I'm trying to instill in him that sometimes it's important to be polite but disobedient. Sometimes it's needed because the leaders are not always going to be right."
As students across New York state began taking the 90-minute tests, parents have been given the option of keeping children from participating. But in many districts the kids are not being allowed to use the time to read or do homework during the testing periods, which continue for the next six days.
"The children should not be punished because of our fundamental right to want what's best for their educational development," Indelicato said. "I feel that the district is trying to use the powers of persuasion to get parents to have their kids participate in the testing."
The Lancaster school district is one of 15 statewide that has implemented what has been dubbed by irate parent groups as "sit and stare." Their main argument against the test is that it lacks transparency and eats away at valuable instruction time for their children.
"We know for a fact, and there are studies to prove, that test-based criteria do not improve a student's performance," Shirley Verrico, whose 13-year-old daughter Michaela, will be not be talking the tests in her Williamsville Central school district, told FoxNews.com.
On Monday, Westchester County Executive Rob Astorino, who is running for governor of New York, released an online video in which he had harsh words for the Common Core standards and announced that he would not have his children participate in the round of testing.
"After speaking at length with my wife Sheila, who's a special education teacher, I am announcing today that my children will join with thousands of other school kids tomorrow, statewide, in refusing to take the Cuomo Common Core test," he said in the video released by his campaign. "They will be in school, but they will opt out of the exam, as is their legal right."
Astorino told FoxNews.com that he is not opposed to attempts to to raise the standards in schools, but said the effort must come at the local level.
"It's one size fits all and that's not how children learn," he said. "Just because we are opposed to the Common Core does not mean we are opposed to bettering standards."