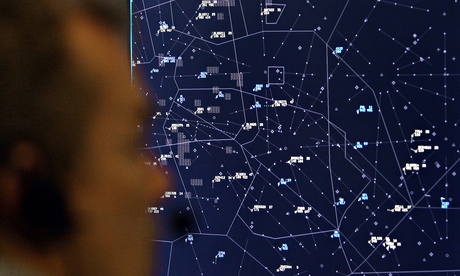 An air-traffic controller watches his screen at a German air-traffic control centre in Langen near Frankfurt. Photograph: Alex Grimm/Reuters
Dozens of aircraft briefly vanished from air-traffic control radars in Austria, Germany, the Czech Republic and Slovakia over the last two weeks in incidents that Slovak authorities blamed on military electronic warfare exercises.
Air-traffic controllers in Austria and Germany said data about the planes' position, direction, height or speed went missing on 5 and 10 June, but the outages posed no serious danger to aircraft travelling at high altitude.
Their Czech and Slovak counterparts also encountered cases of vanishing aircraft on the same days.
"The disappearance of objects on radar screens was connected with a planned military exercise which took place in various parts of Europe … whose goal was the interruption of radio communication frequencies," the Slovak air traffic services said.
"This activity also caused the temporary disappearance of several targets on the radar display, while in the meantime the planes were in radio contact with air traffic controllers and continued in their flight normally.
"Immediately after the identification of the problem with the displays, the side organising the exercises was contacted and the exercise was stopped."
It did not identify the military force, but Austrian media said it was Nato. Nato declined to comment.
A spokesman for German air-traffic control said: "Planes disappeared from screens for a matter of seconds, here and there. The outages were sporadic and not grave.
"It must have been an external source of disruption. We are trying to identify the cause."
There has been a growing focus on the tracking of passenger aircraft since the disappearance of Malaysian Airlines flight MH370 in March.
The airline industry has pledged to come up with proposals by September for a better system of tracking aircraft over oceans and other remote areas. But incidents in controlled airspace are relatively rare.
Europe's air corridors are among the busiest in the world and there have been calls for better technology and co-ordination such asa unified control network. However, some air traffic controller unions oppose these measures.
In the recent incidents, extra Austrian air-traffic controllers were deployed, communicating with the affected aircraft by radio and increasing the safety distances between planes, a spokesman for Austro Control said.
He said that 10 planes passing through Austrian airspace were affected in the first incident and three in the second, and that he had heard that 50 aircraft in total were affected across Europe.
The incidents are being dealt with by European air navigation safety organisation Eurocontrol and the European Aviation Safety Agency (ESA), he said. Neither could immediately be reached for comment.
Richard Klima, a spokesman for the Czech air navigation service, said: "We saw random outages of aircraft detection within the system of the so-called secondary radar lasting several tens of seconds and up to several minutes. But thanks to the complete coverage of air space also through classic primary radars, we constantly had information about the positioning of aeroplanes and operational safety was not threatened."
A spokesman for Austria's defence ministry said it was investigating the incidents but could not immediately confirm how many planes were involved.
The spokesman said military radar - which actively track plane movements, unlike the passive radar used by civilian air-traffic control - had continued to work at all times.