19 June 2014 Last updated at 17:49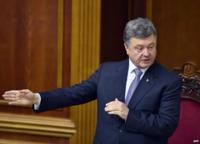 Ukrainian President Petro Poroshenko in parliament in Kiev on Thursday
The new president of Ukraine, Petro Poroshenko, has said he will sign a controversial association agreement with the EU on 27 June.
His elected pro-Russian predecessor, Viktor Yanukovych, was overthrown in February after refusing to sign the deal at the last moment.
Heavy fighting has erupted between troops and pro-Russian rebels in Donetsk region despite talk of a truce.
Meanwhile, Nato says Russia has moved troops back to the Ukrainian border.
In another development, the Organization for Security and Cooperation in Europe (OSCE) has announced it has re-established contact with two teams of its observers who were abducted in eastern Ukraine last month, and says all of them are well.
"We cannot comment about the identity of those detaining them, nor statements made by any groups or individuals that are reported by media," OSCE spokeswoman Natacha Rajakovic said in Vienna.
Mr Poroshenko was elected president in May on a pro-EU platform after six months of political turmoil.
Since Mr Yanukovych fled Kiev, Russia has annexed part of Ukraine's territory, Crimea, and has also been accused of stoking the rebellion in the east.
According to a UN estimate reported this week, at least 356 people, including 257 civilians, have been killed in eastern Ukraine since 7 May.
Kiev appointments
Political parts of the association agreement were signed in March by Ukraine's interim government.
Mr Poroshenko made the announcement as he was replacing three senior officials in Kiev.
Pavlo Klimkin was appointed foreign minister, replacing Andrii Deshchytsia, who drew outrage from Moscow at the weekend when he publicly used an obscene name to describe Russian President Vladimir Putin during a protest outside the Russian embassy in Kiev.
Vitaliy Yarema was appointed chief prosecutor, replacing Oleh Makhnitskyy, an MP from the far-right Svoboda party, while Valeriya Hontaryeva took over as the country's central banker from Stepan Kubiv.
Correspondents say the appointments are an assertion of authority by Mr Poroshenko.
Rebel appeal
Krasnyy Liman, a town of 28,000 close to the rebel stronghold of Sloviansk in Donetsk region, has been the scene of fierce fighting in recent weeks.
A Ukrainian military source told Reuters a "major battle" was under way in the area and rebels reported government artillery strikes from 04:00 (01:00 GMT).
Unverified amateur video posted on YouTube is said to show shelling of the village of Yampil, near Krasnyi Lyman.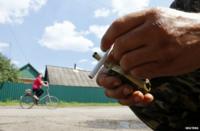 A rebel fighter holds a grenade and a cigarette in Siversk, near Krasnyy Liman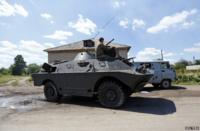 A rebel armoured car in Siversk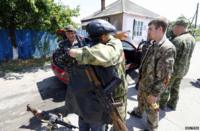 Rebel fighters embrace in Siversk, near Krasnyy Liman, before heading into battle, according to Reuters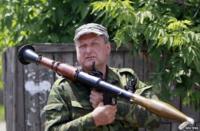 A rebel fighter holding a grenade launcher in Siversk, near Krasnyy Liman
Ukrainian government forces spokesman Vladyslav Seleznyov was quoted by Reuters as saying rebels were trying to break out of an encirclement in the area after rejecting an ultimatum to surrender.
According to the military source quoted by Reuters: "There's a major battle going on which exceeds in terms of force and scale anything there has been up to now."
Rebel commander Igor Girkin, better known as Strelkov, said his forces at Yampol had suffered "great losses" and he feared the government troops, supported by tanks, would break through their positions.
Appealing to Russia for help in a video message, he said: "I still hope Moscow will have the decency, in as much as it has any decency, to take measures."
Mr Poroshenko said he was considering a temporary truce which would allow militants in Donetsk and the neighbouring Luhansk region to lay down their arms.
Rebels rejected the call to surrender their arms.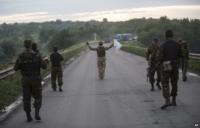 A limited truce was observed in Luhansk on Wednesday to allow a handover of bodies
However, a limited truce has been observed in Luhansk, where rebels and government forces have been exchanging the bodies of their dead.
Nato secretary-general Anders Fogh Rasmussen said on Thursday that at least a few thousand Russian soldiers had been deployed to the border area, in addition to existing forces.
"I consider this a very regrettable step backwards and it seems that Russia keeps the option to intervene further," Mr Rasmussen said in London.