British female jihadists are running 'brothels' where thousands of Iraqi women are being forced to work after being captured by Islamic State militants, it has been reported.
Shocking new details have emerged after it was revealed young British girls are behind an ultra-religious all female militia in Raqqa that is brutally punishing "un-Islamic behaviour" in the area, according to the Sunday Telegraph.
Sources now claim that the women, who travelled from the UK to marry militant fighters, have set up brothels for the IS fighters to use.
READ MORE: British Female Jihadist And Her Islamic State Militant Husband Fall Out Over Lost Kitten
A source told the Mirror: "These women are using barbaric interpretations of the Islamic faith to justify their actions.
"They believe the militants can use these women as they please as they are non-Muslims. It is the British women who have risen to the top of the Islamic State's sharia police and now they are in charge of this operation.
"It is as bizarre as it is perverse."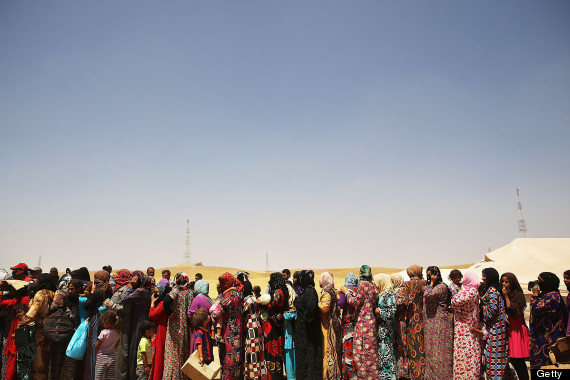 Iraqi women at the Khazair displacement camp for those caught up in fighting around Mosul queue for food
The terrorist group, formally known as ISIS, are killing and enslaving members of Iraq's ancient religious minorities, including Assyrian Christians and the Yazidis.
Last month two UN officials issued a joint statement on the "barbaric acts" of sexual violence committed by ISIS fighters.
"We condemn, in the strongest terms, the explicit targeting of women and children and the barbaric acts the 'Islamic State of Iraq and the Levant' has perpetrated on minorities in areas under its control, and we remind all armed groups that acts of sexual violence are grave human rights violations that can be considered as war crimes and crimes against humanity," Nickolay Mladenov, special representative of the UN secretary-general for Iraq and Zainab Hawa Bangura, special representative of the secretary-general on sexual violence in conflict, said.
The statement, reported by Newsweek, cited evidence of "savage rapes" being used as weapons of war against women and teenage boys and girls belonging to the Yazidi, Christian, Turkomen and Shabak minority groups in Iraq.
Academic and Middle East expert Haleh Esfandiari has said ISIS allow their followers to rape captured girls and women as a "reward".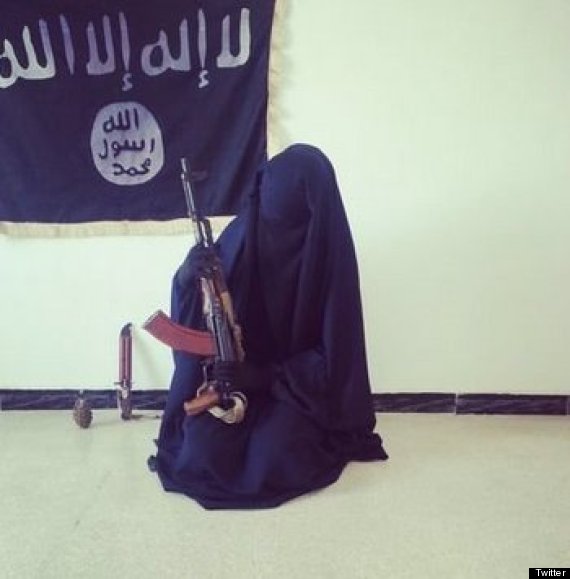 British female jihadist Zahra Halane
"ISIS has received considerable world attention for its savage beheadings, executions of captured soldiers and men in conquered towns and villages, violence against Christians and Shiites, and the destruction of non-Sunni shrines and places of worship," she blogged for the Wall Street Journal.
"But its barbarity against women has been treated as a side issue. Arab and Muslim governments, vocal on the threat ISIS poses to regional stability, have been virtually silent on ISIS's systemic degradation, abuse, and humiliation of women.
"To the men of ISIS, women are an inferior race, to be enjoyed for sex and be discarded, or to be sold off as slaves."
One teenager taken captive by IS has described being forced into sexual slavery by the Islamist terrorists along with 40 other women, some as young as 12.
The 17-year-old Yazidi, who is still in captivity, said her torturers were "people without a heart" who "do not even spare the women with small children".
She claimed the women in her group of captives - all Yazidis - were being sexually abused on a daily basis, while being held in a building with barred windows and guarded by armed men.
"I beg you not to publish my name because I'm so ashamed of what they are doing to me," she told Italy's La Repubblica newspaper in an exclusive report.
"There's a part of me that just wants to die. But there is another part of me that still hopes that I will be saved and that I will be able to embrace my parents once again."
The paper was given a mobile number for the girl by her parents, who are in a refugee camp in Iraqi Kurdistan.
The distraught teenager added: "To hurt us even more, they told us to describe in detail to our parents what they are doing. They laugh at us because they think they are invincible.
Experts have warned that women are the new target for recruitment for the Islamic State (IS), with researchers seeing "unprecedented" calls for fighters to marry British and European women.
The women, most of whom are just teenagers, are bombarding IS fighters with marriage proposals during social media 'Q&As' and researchers estimate as many as 50, most of them British, could have already gone to join fighters in Syria and Iraq.
Four women from the UK have so far been identified by experts including a 16-year-old schoolgirl from Chorlton, Manchester and an Irn-Bru loving Glaswegian.
1

Twins Salma and Zahra Halane

The 16-year-old schoolgirls from Chorlton, Manchester, followed their brother who had also gone to fight in Syria. They are now married to ISIS fighters, and told a reporter for their local paper that they spend most of their time indoors, leaving only with their husbands. Both twins, the daughters of Somali refugees, had achieved excellent GCSE results, 23 grades A*-C between them at Whalley Range High School for Girls. A twitter account linked to one of the twins shows a woman in a burka, with an AK47, as the profile picture.
2

Khadijah Dare aka Muhajirah fi Sham

Khadijah Dare, a mother of one originally from Lewisham, has engaged in active recruitment of women for Isis. She left Britain in 2012 to live in Syria with her Swedish husband. Writing on Twitter under her name Muhajirah fi Sham, which means immigrant in Syria, Dare praised the killing of US journalist James Foley, saying: "Any links 4 da execution of da journalist plz. Allahu Akbar. UK must b shaking up ha ha. I wna b da 1st UK woman 2 kill a UK or US terorrist!(sic)". In a recruitment video for the group, the 22-year-old can be seen firing an AK47, calling on Brits to come and fight. "Instead of sitting down and focusing on your families or focusing on your studies, you need to stop being selfish because time is ticking," she said.
3

Aqsa Mahmood aka Umm Layth

Umm Layth was a prolific tweeter until she was identified in the press as 20-year-old Glaswegian Aqsa Mahmood. In her tweets, she urged Muslim men and women who could not come to fight to instead commit terrorist atrocities at home, praising the brutal murder of Drummer Lee Rigby in Woolwich, the bombing of the Boston Marathon and the shooting of soldiers at Fort Hood in Texas. "If you cannot make it to the battlefield, then bring the battlefield to yourself," she tweeted. Mahmood, who is now married to an Isis fighter, attended the prestigious Craigholme School and was studying radiography at Glasgow Caledonian University when she left for Syria. Her family reported her missing to police in November 2013. Despite praising al Qaeda terrorists and encouraging more attacks, her tweets betray her Westernised roots. One asks for someone to "make a Hijrah [pilgrimage] from Scotland already and bring me Irn-Bru." She also tweeted with delight at receiving European food, including Pringles crisps and Nutella.
4

Al Khanssaa

A close friend of Aqsa and a Brit of Somalian heritage, Khanssaa is described on Twitter as the "cook of the house" in Raqqa where several girls live. She tweets them offering up Nutella pancakes. Unlike many of the other girls who have tweeted about how their families disapprove of their mission to Syria, Khanssaa said she is following in the footsteps of her father who left her family to fight a holy war, though she does not specify where.
5

Umm Anwar / Umm Farris

With the black flag of Isis as her profile picture, Umm Anwar, who also goes by the name Umm Farris, is one of the four British girls married to an Islamic State fighters who has only recently been identified by researchers. She is believed to be based in Raqqa, and recently said she was surprised to discover a 'Yazidi slave girl' from Iraq in a home she visited. As well as retweeting praise for Islamic State fighters and the Caliphate, she mentions shopping and joking with her friends in the city while her husband fights.
6

GreenBirds22

Though much of her account extols the virtue of jihad, the third member of the British girl gang in Raqqa peppers her tweets with English slang, like 'ain't' and calls her fellow ISIS wives 'babesss'. Going under the name 'Black Banners' on Twitter, where her profile picture includes Osama Bin Laden, she suggested she is the second wife of a fighter She tweets about being "bored" in Raqqa and asks her friends repeatedly to meet up and visit her. Her twitter also includes retweets of beautiful pictures and Vines, including a sunset at the Golden Gate bridge, San Francisco, and a comedy sketch about accidentally dropping a cookie in milk.

7

UkhtiB

A close friend of Anwar, the pair joke about their shopping habits on Twitter, arrange lifts, drink smoothies and cook each other food. Her background is unclear, but she hints that her family disapprove of her being in Syria, tweeting: "Your family will be the biggest test for you once you make Hijrāh. They're either with you or without you." Much of her feed consists of retweets of local fighters and of Islamic sayings, as well as graphic pictures of the dead from Iraq, Syria and Gaza.

8

Umm Talib

The fourth member of the group of girls in Raqqa, who calls herself Qad Af-Iahal Shuhada, has a son with her, and is believed to be from London or the south of England, having tweeted about leaving her Oyster card in the pocket of her abaya, a type of female Muslim covering, while she put it in the watch. A foodie, she recently retweeted a recipe for Vietnamese chicken with avocado and lemongrass spring rolls, then messaged her friend to tell her she was cooking for them. Other tweets include a picture of the girls out for dinner in Raqqa, eating hummus and pita with chilli and vegetables.
9

Umm Khattab

One of the most prolific tweeters amongst the women in Isis is a British 18-year-old who goes under the twitter handle @UmmKhattab, who has tweeted about previously being based in the town of Manbij, close to Aleppo, tweeting sunsets from the rooftops, but has recently moved to Raqqa. "Best thing ive done in my 18 years in this world is come to the blessed land of shaam and leave Britain the land of kuffar," she posted in June. And she tweeted a dim view of the UK's plan to strip returning jihadists of their citizenship. "Uk government are funny im not returning to ur dirty society which has no moral values y'all r all uncivilised and need islam to liberate u," she wrote.
10

Sally Jones aka Umm Hussain al-Britani

Formerly a rock musician in a local band, the 45-year-old mother-of-two from Chatham, Kent, is believed to have converted to Islam to marry a British Isis fighter Junaid Hussain. The couple are reported to have moved to Raqqa, leaving her children behind. Her Twitter account under the name Umm Hussain al-Britani, contains threats like "You Christians all need beheading with a blunt knife and stuck on the railings at Raqqa... Come here I'll do it for you."