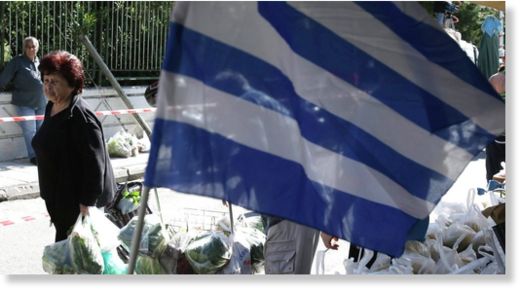 © AP Photo/ Thanassis Stavrakis
Greece could use revenues from potential joint projects with Russia to pay off its debt to the international creditors, Russian President Vladimir Putin said Wednesday.
"If we will implement a large project which would bring substantial profits to Greece, it would mean that these revenues could be used to pay off [Greece's] existing debts."
Athens has not asked Moscow for financial assistance, Putin said at a press conference with Greek Prime Minister Alexis Tsipras. However, the two leaders discussed the possibility of launching large-scale projects in the energy industry, with Russia open to the possibility of providing Greece with loans for those ventures.
Greece owes some $270 billion in debt loans to the European Union and the International Monetary Fund, who lent Athens money to stave off bankruptcy. Greece is expected to repay a loan payment of around $494 million on Thursday.
The Greek prime minister's visit to Moscow on Wednesday has been largely tied to Greece's struggle to secure funding, while at the same time easing budget austerity that was imposed on it by the troika of international money lenders.
Speaking after the meeting, Putin said joint projects could become a financial lifeline for the cash-strapped nation. One of such projects is Russia's new Turkish Stream gas pipeline that could turn Greece into a gas hub for the European Union.