Posted on May 4, 2015 by willyloman
by Scott Creighton
UPDATE: Turns out, both were killed by the same traffic cop. One gun killed both guys who were armed with assault rifles and wearing body armor? When all the other cops finally ran over to the scene, it was all over and the two guys were dead.
"Two men exited the dark color sedan, both of them had assault rifles, and came around the back of the car and started shooting at the police car," he said. He said officers from around the center converged on the scene within seconds, but by then the traffic officer had already killed the gunmen… He said that one police officer, whom he did not name, returned fire with his pistol, killing both gunmen."
———
The two assailants in the Garland Texas shooting incident never even got close to the building. In fact, they weren't even on the grounds of the Curtis Culwell Center where the Pam Geller hate-fest contest was taking place when they were shot and killed.
Here's a picture of the scene from Fox4. Notice the debris on the ground? That happened when they blew up the car for fear there might be some explosives in it (no checking for fingerprints now)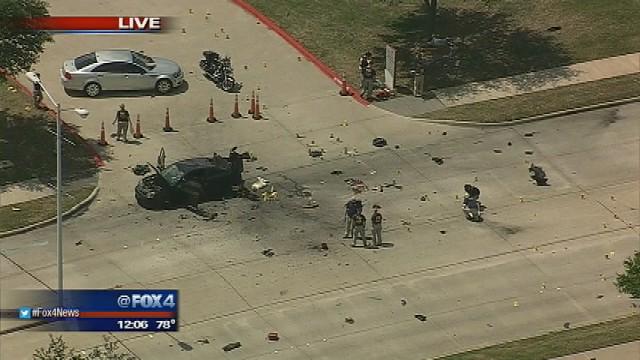 Here's a picture of the two guys lying dead on the road last night after being shot by officers on the scene. Notice the car hadn't been blown up at that point. Also notice what side of the car the two men are on.
Here is a map showing the location of the car in relation to the contest location.
Here's a screen-shot of the location. Notice how far away the venue is? According to the story, they jumped out to attack the conference and started shooting immediately. Why did they do that way over here away from the building?
One clue might be if you go to the Google maps page showing this location and use the street view function you'll notice there is nothing around from quite a distance. Very isolated.
Like this:
LikeLoading...
Related
Filed under: American Gladio, Garland Texas shooting, Scott Creighton