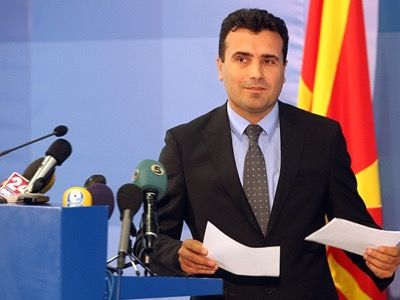 SDSM leader Zoran Zaev
After Sunday's anti-government rally, thousands of opposition activists will camp out in front of the government HQ in Skopje until Prime Minister Nikola Gruevski resigns, the opposition said.
Opposition Social Democrats, SDSM leader Zoran Zaev told a press conference on Friday that after the planned mass rally, a non-stop sit-in protest will maintain the pressure on Gruevski and his government.
"Some 4,600 activists have decided on their own initiative to sleep out in front of the government building and to continue the protest. Knowing that we are not the only organizers of this protest, we have decided that we will remain until the end, until Gruevski resigns," he said.
Zaev said his party was doing all it could to ensure a peaceful protest on Sunday and foil any attempts to provoke violence and incriminate the opposition.
"All SDSM members have got instructions to record every possible violent act. Let us open our eyes so that no one can frame us," Zaev said.
Tens of thousands of people - not just SDSM supporters, but also supporters of other smaller parties, both Macedonian and Albanian, as well as human rights activists, workers' unions, and students', professors' and teachers' movements - are expected to attend the rally on Sunday.At Friday's press conference, the opposition released the latest in a series of wiretapped conversations allegedly between government officials which have sparked a mass surveillance scandal in the country and highlighted claims of corruption and other serious wrongdoing within Gruevski's administration.The new tapes, the opposition claimed, illustrate the brutality and malice of senior state officials as well as their hatred towards the country's large Albanian minority.
The tapes involve the alleged voices of Prime Minister Nikola Gruevski, outgoing Transportation Minister Mile Janakieski, outgoing interior minister Gordana Jankulovska, the PM's chief of staff Martin Protugjer, outgoing secret police chief Saso Mijalkov and police spokesperson Ivo Kotevski.
In one tape, the voices of Mijalkov and Jankuloska are allegedly heard plotting how to retaliate against a police officer who came out to protest against the arrest of rightist opposition leader Ljube Boskoski.
"Let's sack him," Jankuloska appears to suggest. "We should put him in the worst possible place," Mijalkov says.
In another tape, what is alleged to be the voice of the Prime Minister is heard instructing Transport Minister Janakieski to prepare to tear down a small park in central Skopje so that a new building, part of Gruevski's grand makeover plan of the capital dubbed 'Skopje 2014', can be erected.
After Janakieski warns that local residents may complain, Gruevski instructs him to check whether they are ruling party voters or not. "If they are 'commies' [a derogatory word for the opposition members], fuck them," Gruevski says.
The tapes also allegedly reveal that the Prime Minister's former chief of security, Dejan Mitrevski Urko, as well as several other high-ranking police officials have been picking up fights, brutally beating people up and even pulling guns on people for no reason.
Protugjer's voice is heard in one tape suggesting that Dragan Pavlovic, the chief editor of Sitel TV and one of the most prominent pro-government reporters, should be killed for allegedly working for Serbian interests.
"I will kill him! About ten people in this country should be killed so that all is well afterwards," Protugjer is heard saying.
In another recoording, Protugjer tells Jankulovska that he wants to visit the critically-inclined journalist Zoran Bozinovski in jail after the Serbian authorities arrest him and send him to Macedonia.
"Can I pay him a visit while the camera is turned off?" he asks Jankuloska, suggesting that she should put the journalist "in a cell together with some gypsy who has homosexual tendencies".
According to the opposition, another three conversations between Jankuloska and Kotevski reveal their plan how to exploit for media purposes the underage daughter of a policemen who was charged and later convicted of killing two people, both ethnic Albanians, in the town in Gostivar, so that they can stop a scandal hitting the police.
"It should be utterly pathetic," Kotevski explains as the two plot which journalists to engage to do the story and how the story should have the shocked girl as a central character, so that ethnic Macedonians sympathise with her ordeal.
The latest batch of tapes, the opposition said, show the government's hypocrisy when it talks about strengthening inter-ethnic relations and coexistence between the country's Macedonians and Albanians.
According to the opposition, in a conversation about the employment of Albanians in the police, Gordana Jankuloska and Saso Mijalkov are heard suggesting that the solution for the country's inter-ethnic issues with the Albanian minority is another armed conflict.
"There is a solution, but unfortunately we do not have a national consensus," Mijalkov says to which Jankuloska replies: "I support that kind of solution, to be honest". She adds that she thinks it would be good if "we settle things once and for all".
"There is no coexistence with them [Albanians]," Jankuloska tells Protugjer. He suggests: "What if we have a war?" Jankuloska responds: "If we were to show who is stronger, we would deal with them in an hour."
Zaev said that the tapes show that "this government is working to destroy [ethnic] coexistence in this country".
"Most people in Macedonia from all backgrounds do not think like this. They have one problem, and that problem is Nikola Gruevski," he said.