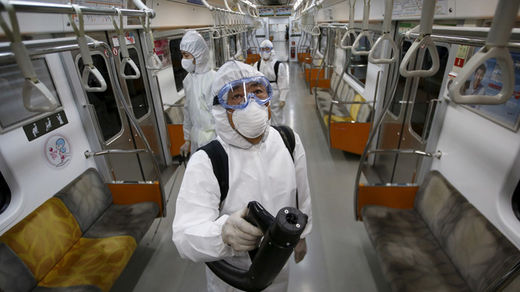 © Reuters / Kim Hong-Ji
Seven new cases of MERS have been confirmed in South Korea, bringing the total to 145, while thousand's of people have been quarantined. A patient in Slovakia is also being tested, as the WHO has called for an emergency meeting to tackle the outbreak.
Four of the new patients in South Korea confirmed on Sunday are believed to have caught the deadly virus after coming into contact with patients at Seoul's Samsung Medical Center, according to the Health and Welfare Ministry.
Another of the victims is believed to have contracted MERS as he drove an infected patient to a hospital. The last two cases have been linked to two separate medical facilities.
Over 4,000 people are currently being kept in quarantine as a precaution, after they were in close contact with potential MERS suffers, since the first case was confirmed on May 20.
So far, 15 people have died in South Korea as a result of the latest MERS outbreak.
This week, experts from a 16-member joint mission from South Korean and World Health Organization (WHO), warned that the outbreak is "large and complex," while more cases should be expected.
The WHO is also urging those people who have possibly been exposed to the virus, not to travel, especially during the incubation period.
Despite the WHO warning, a man in Slovakia has been hospitalized after possibly contracting MERS. Doctors in Bratislava are expecting to receive test results from Prague on Sunday, after testing a 38-year-old South Korean male, a spokeswoman said on Saturday.
Local media claim the patient may have come into contact with the virus, while working as a subcontractor for Kia motors, a Korean car manufacturer, at a factory in the city of Zilina, Slovakia.
Meanwhile, the WHO announced it will hold an emergency meeting on Tuesday to address the outbreak. The conference will provide technical updates on epidemiology and offer advice on future preventative actions in response to the South Korean outbreak, the largest outside Saudi Arabia, where the disease first surfaced in 2012.
MERS comes from the same family of viruses as Severe Acute Respiratory Syndrome (SARS) that killed about 800 people worldwide in 2002-2003. There is currently no cure or vaccine for the disease.