Prominent #BlackLivesMatter activist DeRay McKesson retweeted a comment about the dramatic on-air murder of two TV station employees that criticized "whiteness" for calling the shooter a "disgruntled employee" and then added his own comments, which he later deleted.
In his initial tweet about the shocking murders, DeRay posted a simple and respectful message naming the victims.
Quickly, however, activist McKesson began insinuating a racial angle to the crime before it had become clear that there was a racial angle.
That tweet came from Kwame Rose, whose bio on Twitter describes him as a "Social Activist. Hip Hop Artist. Blogger. Speaker. Concerned Resident of Baltimore City."
DeRay–who gained fame as social media activist and inserted himself into the Baltimore and Ferguson riots–then reportedly added his own comments. The tweet by DeRay has been removed from his Twitter timeline.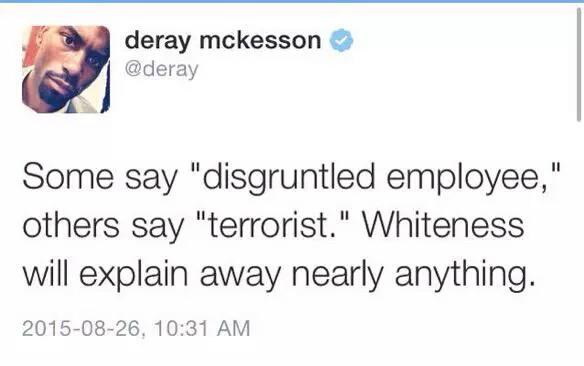 The "disgruntled employee"–who the tweet suggests would be called a terrorist, if not for "whiteness"–turned out to be black former employee Vester Lee Flanagan II, aka Bryce Williams. Williams recorded the murders, posted them on social media, and later killed himself.
Rose followed up:
The Black Lives Matter movement often complains about media coverage that it claims is anti-black and racist.