NOTE: The following materials are for information purposes only and may not be copied, reproduced, or transmitted without the explicit permission of SITE Intelligence Group and specific attribution to SITE Intelligence Group. 
Details
Multimedia
Created: 13 October 2015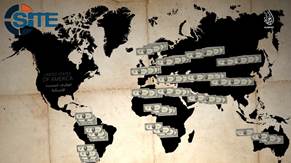 Al-Hayat Media Center, the foreign language media division of the Islamic State (IS), released an abridged version of its video promoting the IS' minting of gold coins, "The Rise of the Caliphate: Return of the Gold Dinar".
Register to read more ...