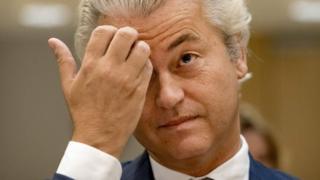 Image copyrightAFPImage caption Geert Wilders is facing his second trial for hate speech
The trial of Dutch anti-immigrant politician Geert Wilders is to go ahead after judges rejected a bid by his lawyers to have the case thrown out.
He is accused of inciting racial hatred after asking supporters at a rally if they would like more or fewer Moroccans in the Netherlands.
The trial date has been set for 31 October.
Mr Wilders claims he is being "prosecuted for voicing the opinion of millions".
Although the outspoken right-winger has repeatedly criticised Islam, calling for a ban on the Koran and the closure of all mosques in the Netherlands, prosecutors say he crossed the line this time by targeting people on the basis of their ethnicity.
At a 2014 rally of his Party for Freedom (PVV), after supporters chanted they wanted "fewer" Moroccan nationals he replied: "We'll organise that."
In court, Mr Wilders' lawyers tried to have the charges thrown out by arguing that a trial would amount to a legal assessment of his party's political manifesto. The presiding judge, Hendrik Steenhuis, did not agree.
In 2011, Mr Wilders was acquitted of incitement after being accused of encouraging hatred towards Muslims.
Media captionDutch far-right politician Geert Wilders says Brexit means the EU is "more or less dead".
He tweeted his frustrations on Friday, comparing his country to Turkey and saying "displeasing political opinions are being silenced in court".
Mr Wilders' Party for Freedom had been riding high in the polls ahead of a Dutch election in March 2017, but recently lost its lead to Prime Minister Mark Rutte's liberal People's Party for Freedom and Democracy (VVD).
Mr Wilders has had round-the-clock protection since the 2004 assassination of anti-Islam film director Theo van Gogh and is often described as the most heavily-guarded man in the Netherlands.