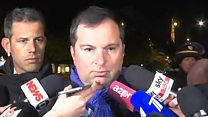 Media playback is unsupported on your device
Media caption
Interior Ministry spokesman Pierre-Henry Brandet: "A man jumped out and opened fire on the police vehicle"
The gunman who shot dead a policeman in Paris on Thursday has been identified from papers left in his car, but French officials are yet to release his name.
Local media say the 39-year-old lived in the city's suburbs, and had been seen as a potential Islamist radical.
The gunman also wounded two police officers before he was killed by security forces on the Champs-Elysees.
President François Hollande is to chair a security cabinet meeting, as France readies for Sunday's presidential poll.
Mr Hollande said he was convinced the attack was "terrorist-related", adding that the security forces had the full support of the nation and a national tribute would be paid to the fallen policeman.
So-called Islamic State (IS) said one of its "fighters" had carried out the attack.
What happened on Thursday on the Champs-Elysees?
A car pulled up alongside a police bus just before 21:00 (19:00 GMT) and a man got out, opening fire on the bus with an automatic weapon, Interior Ministry spokesman Pierre-Henry Brandet said.
After killing an officer, the man attempted to run away while shooting at other officers, two of whom he injured, the spokesman added.
He was then shot dead by security forces.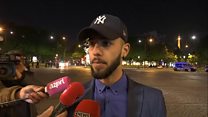 Media playback is unsupported on your device
Media caption
Eyewitness: "I heard two or three shots... then there was just panic all around."
Terrified eyewitness later recounted scenes of panic as they ran for cover after hearing gunfire.
The whole of the Champs-Elysees was evacuated.
Because of its worldwide renown and its large number of visitors, the avenue has long been seen as a potential target, the BBC's Hugh Schofield in Paris reports.
Overnight, a property in the eastern Parisian suburb of Chelles was searched by investigators, who want to know who else - if anyone - may have known about the gunman's plans.
What is known about the attacker?
Paris prosecutor François Molins said shortly after the shootings that "the attacker's identity is known and has been verified".
"I won't reveal it, because investigations and raids are already under way, in particular to establish whether there is any evidence or not of complicity (in this attack)," he said, adding that more information would be released on Friday.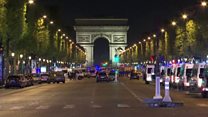 Media playback is unsupported on your device
Media caption
"Stay back... the area's dangerous", one police officer told the public
According to French media, the attacker served several years in prison for firing on police officers with a gun in the early 2000s.
More recently the intelligence services identified him as a potential Islamist radical.
Meanwhile, IS identified the attacker as Abu-Yusuf al-Baljiki, in a statement carried by its Amaq news outlet.
Could the attack influence the elections?
The 11 candidates standing in Sunday's closely fought presidential election were engaged in a final joint TV appearance to argue their policies as the attack happened.
Marine Le Pen, of the far-right national Front, tweeted: "I feel for and stand by our security forces, who have been targeted again."
Centre-right contender François Fillon also went on Twitter to pay "tribute to the security forces who give their lives to protect ours".
Independent centrist Emmanuel Macron said during his TV appearance that it was a president's "first duty to protect" and he expressed his "solidarity" with the police.
Image copyright
Reuters
Image caption
People could be seen walking towards police with arms raised to show their hands after the shooting
Ms Le Pen, Mr Fillon and Mr Macron have announced they are cancelling campaign events scheduled for Friday, the last day of canvassing for votes.
Jean-Luc Mélenchon, standing for the far left, tweeted: "I strongly feel for the policemen killed and wounded and their families. Terrorist attacks will never go unpunished, accomplices never forgotten."
Analysis by BBC's Europe editor Katya Adler
It would easy to assume that Marine Le Pen - so outspoken about security, migration and Islamic fundamentalism - could benefit at the ballot box.
But anxious voters may turn, instead, to experienced conservative politician and former French Prime Minister François Fillon.
Up until now four candidates were almost neck-and-neck in the lead in the polls with millions of voters still undecided about who to vote for.
It's hard to tell to what extent this attack will affect the election outcome, but centrist Emmanuel Macron and Jean-Luc Mélenchon on the far-left will be all too aware that few see them as foreign and security policy heavyweights.
Islamist militancy is a major issue in the polls after recent mass attacks claimed by IS, with 238 people killed in jihadist attacks in France since 2015, according to data from AFP news agency.
French candidates in last TV pitch ahead of vote
And how did the world react?
At the White House, US President Donald Trump said people had to be strong and vigilant.
"Our condolences from our country to the people of France," he said. "It looks like another terrorist attack and... what can you say? It just never ends."
In the UK, a Downing Street spokesman said: "The UK strongly condemns the appalling terrorist attack in Paris. The Prime Minister (Theresa May) has tonight passed on her condolences to President Hollande."
German Chancellor Angela Merkel pledged to remain "strong and determined" alongside France.