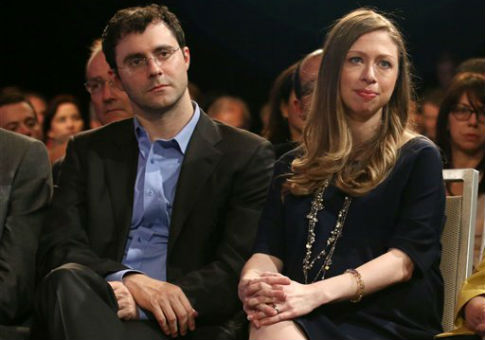 Chelsea Clinton and husband Marc Mezvinsky / AP
BY: Nick Bolger
May 19, 2017 8:36 am
A Silicon Valley investment firm has hired Chelsea Clinton's husband as its new vice chairman.
Marc Mezvinsky began his work for the firm, Social Capital, in April a spokesperson said, according to Bloomberg.
Social Capital founder Chamath Palihapitiya said Mezvinsky's role will be to build relationships between the firm and governments, investors, and companies.
"I have seen firsthand his ability to think strategically and engage equally well with both CEOs and engineers. He has a common touch which is rare for someone with such deep experiences and relationships in politics, finance and philanthropy," Palihapitiya said of Mezvinsky.
The son-in-law of Bill and Hillary Clinton has long been in finance. He has previously worked at Goldman Sachs Group, been partner at 3G Capital, and founded Eaglevale Partners, a hedge fund he closed in 2016:
The Washington Free Beacon warned readers in 2015 not to give money to Mezvinsky's Eaglevale, citing reports that he was not very good at his job. One of the fund's most embarrassing moments, which certainly contributed to the decision to close the fund, came because of a bet Mezvinsky took on the Greek economy that ended up costing investors nearly $25 million.