Isis has claimed responsibility for the deadliest mass shooting in modern American history.
Police said at least 50 people were killed and 200 wounded when a gunman opened fire on dense crowds at a concert in Las Vegas.
Officials have identified the shooter as Stephen Paddock, a 64-year-old American who had multiple weapons on the 32nd floor of a nearby hotel, where he is believed to have killed himself.
A statement published by the group's Amaq propaganda agency claimed the attacker was a "soldier of the Islamic State".
"The Las Vegas attacker is a soldier of the Islamic State in response to calls to target coalition countries," it said.
Isis also claimed the gunman "converted to Islam several months ago", without providing more details. Paddock's religion and lifestyle have not yet emerged elsewhere.
A spokesperson for the FBI said no link to Isis had yet been found in the ongoing investigation.
"As this event unfolds we have determined to this point no connection with an international terrorist group," he added.
"As this investigation continues we will continue to work with our partners."
The wording of the release is similar to other attacks that have been inspired, rather than directed, by Isis.
Paddock's alleged suicide would also differ from the actions of the vast majority of Isis attackers, who seek to be "martyred" in bombings or by security forces, suggesting he had little, if any, guidance from the group.
The claim, which cannot be independently verified, came days after Isis released a speech purporting to be from the group's leader.
A 46-minute audio recording appeared to show Abu Bakr al-Baghdadi praise the jihadis killed in the battle to retake Mosul and other former Isis territories.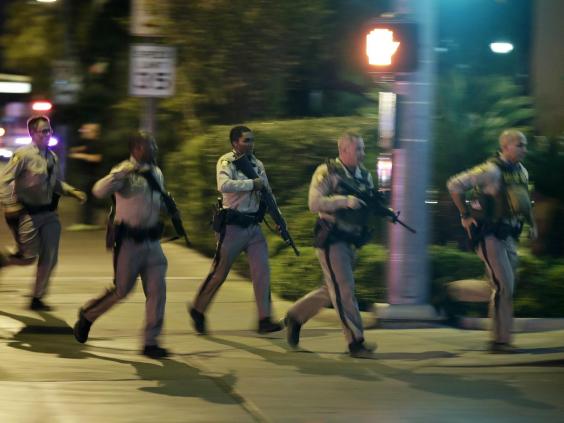 Police run to cover at the scene of a shooting near the Mandalay Bay resort and casino on the Las Vegas Strip, 1 October. (AP Photo/John Locher )
He urged followers to "intensify one attack after another against the infidels", following a spike in global terror attacks.
Security officials and experts have long warned that Isis will seek to maintain momentum and legitimacy through terror as its so-called "caliphate" dwindles in Iraq and Syria.
The group's claims can be difficult to confirm or deny, with one alleging that explosives were planted at Charles de Gaulle airport recently disproved after being published in its al-Naba propaganda newspaper. 
Conversely, Isis has also failed to claim responsibility for several attacks carried out by potential supporters, including a deadly knife rampage in Hamburg and terrorist stabbing in Finland.
The shooting started shortly after 10pm local time, with footage showing concert-goers throwing themselves to the ground and running as several extended rounds of automatic gunfire rang out.
Police initially said the shooting was not being treated as a terror attack but no updated statement has been made since Isis released its claim.
It came after the group claimed responsibility for a stabbing attack that left two young women dead in the French city of Marseille earlier on Sunday.
Isis was also linked to a car and knife attack in Edmonton, Canada, where a police officer found a flag used by the group in the perpetrator's car.
Reuse content