The things you only see on /pol.
Remember the NSA shooting incident? We were told by Fake News like CNN that:
Three men were taken into custody Wednesday after a vehicle attempted to enter the National Security Agency's headquarters in Fort Meade, Maryland, the FBI said.

The driver of the car, as well as a NSA police officer and a civilian onlooker, were injured in the incident, FBI Special Agent in Charge Gordon Johnson said at an afternoon news conference. Gunshots were fired but the FBI doesn't believe anyone was shot.

Two of the individuals are in NSA custody and being interviewed by FBI agents as part of the bureau's investigation, Johnson said. The third — the driver of the vehicle — is being treated in the hospital for his injuries. The NSA police officer and civilian were also taken to the hospital for non-life threatening injuries.
Then /pol noticed this in the scenes of the incident (click the image for the full size):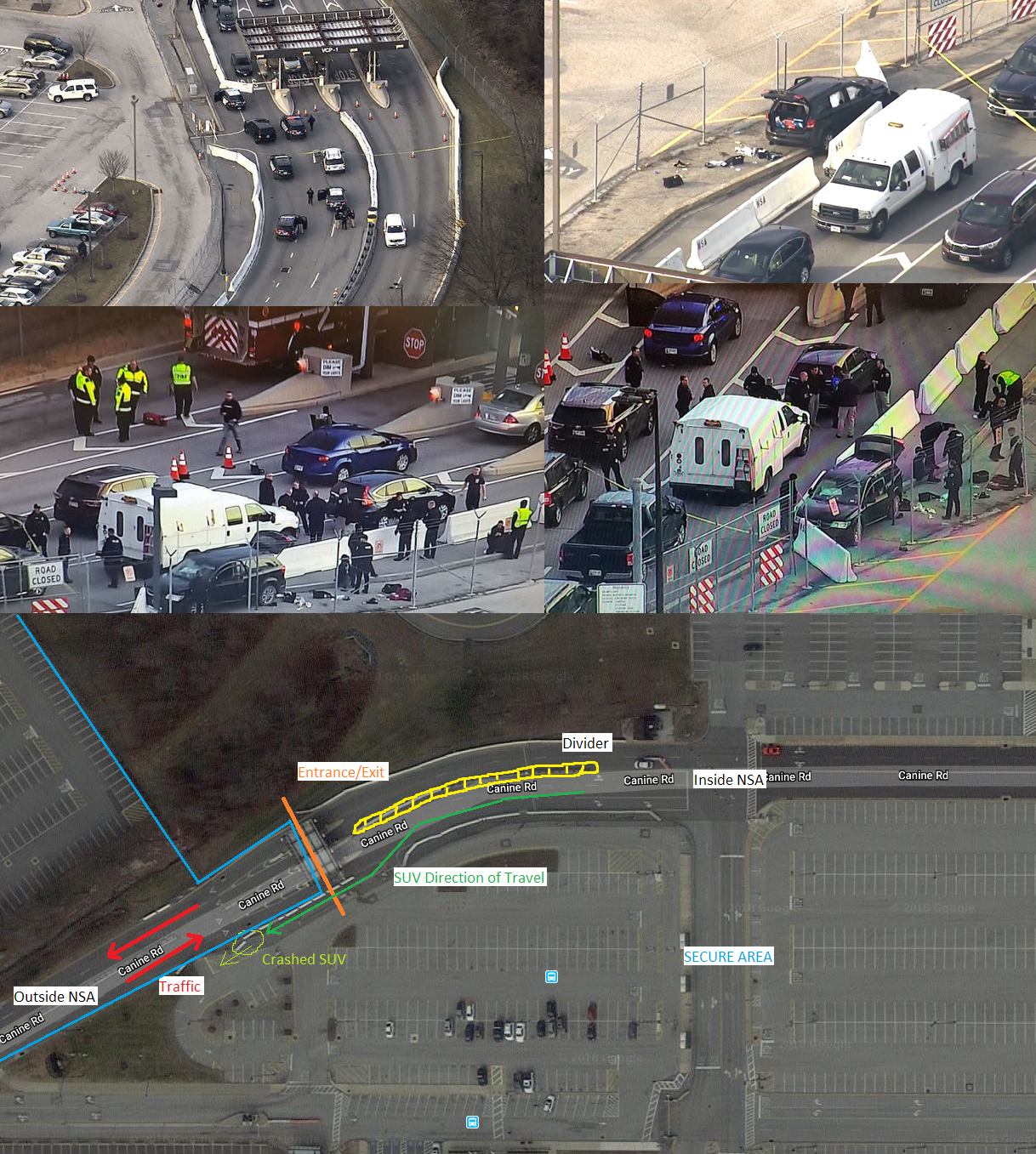 Those dudes were already on the NSA campus, and they were trying to get out. Notice how NSA organized that barricade system to look like a nice exit, to lure potential escapees into taking that path, only to close it just after the gates. Sneaky sneaky.
One report said it was a rental car, which might have been conducive to concealing an identity, had they escaped, and all NSA had to go on was a license plate of a rental car that was rented with false ID.
Nothing you are told by the media is real. It is all Deep State approved propaganda, designed to control your entire view of the world.
That, and there must be one hell of a secret war going on in DC behind the scenes.
Tell everyone about r/K Theory, because when you are trying to escape from Deep State, you never take the obvious escape route