Freshman Congresswoman Alexandria Ocasio-Cortez lets Nancy Pelosi know that the Socialist Democrats are out for blood as she stages Climate Change coup in Pelosi's office
At the Freshman Congressional orientation day in Washington, Alexandria Ocasio-Cortez joined a protest of the Sunrise Movement at Nancy Pelosi's office. Ocasio-Cortez wasted no time in letting the establishment Democrats know that the Socialist Democrats are not interested in taking any prisoners.
So who exactly are the Sunrise Movement? Glad you asked. The Sunrise movement is a political group, registered as a 501(c)4, with the stated goal of influencing the 2018 midterm elections in favor of their preferred climate policies. Sunrise itself has direct ties to the divestment movement. Varshini Prakash led her campus's UMass Fossil Fuel Divestment campaign for two years and later worked for the Divestment Student Network (DSN) coordinating various divestment campaigns throughout the country. DSN is a project of the Alliance for Global Justice, which has received grants from 350.org and the George Soros-backed Open Society Foundations, and also has ties to Occupy Wall Street.
 George Soros helped to fund her campaign from Day One, and now he is requiring his 'pound of flesh' in return. Ocasio-Cortez is complying obediently.
On her first day of orientation on Capitol Hill, Alexandria Ocasio-Cortez protests in Pelosi's office
FROM USA TODAY: Congresswoman-elect Alexandria Ocasio-Cortez on Tuesday kicked off her first day of new-member orientation by participating in a climate change protest at House Minority Leader Nancy Pelosi's office.
About 200 people were in Pelosi's office lobby and down the hall, and among them was the 29-year-old New York Democrat.
Ocasio-Cortez, the youngest woman ever elected to Congress, said she wants to show Pelosi that "we're here to back her up in pushing for 100 percent renewable energy."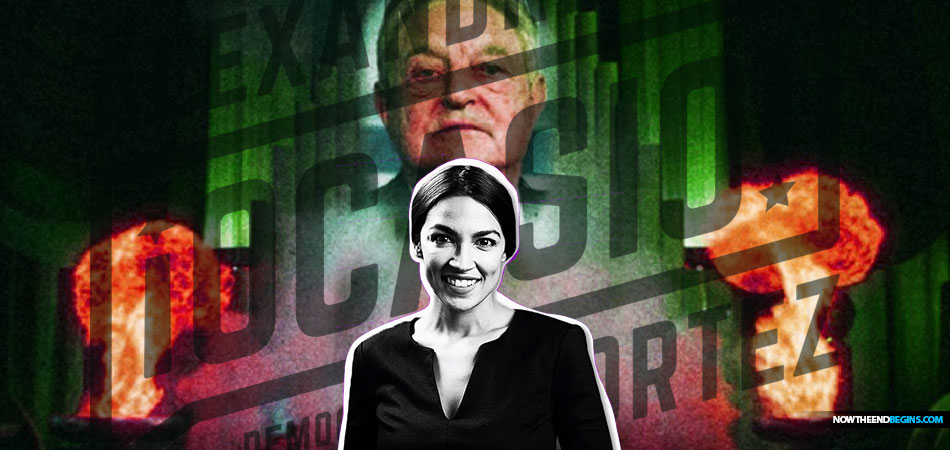 SO YOU THINK SHE JUST POPPED UP OUT OF NOWHERE? SHE WAS CREATED IN THE GEORGE SOROS PUPPET FACTORY, AND NOW HER MASTER WANTS HIS MONEY'S WORTH.
"This is not about me, this is not about the dynamics of any personalities," she told reporters outside Pelosi's office. "But this is about uplifting the voice and the message of the fact that we need a Green New Deal and we need to get to 100 percent renewables because our lives depend on it."
This morning 100s of young people came together to ask us as elected officials to act urgently to draft a Green New Deal that gets us to 100% renewable energy ASAP.

They asked me to join them, and I did. We can embrace the energy of activism to move our party's goals forward. https://t.co/nsiG9hhcgf

— Alexandria Ocasio-Cortez (@Ocasio2018) November 13, 2018
The protest was organized by Sunrise Movement, which is mobilizing young people to fight climate change and calling for more green jobs.
"We're here because we're scared and we're angry," said Garrett Blad, a Sunrise Movement spokesman. "We don't believe we need any more education or any more science."
Ocasio-Cortez said she is thinking of the issue not just as an elected member of Congress, but as a 29-year-old woman who is concerned about the country over the next 30 years.
"I don't want to see Miami under water," she said. "I don't want to see my district under water. And I know that Leader Pelosi doesn't either." READ MORE

Now The End Begins is your front line defense against the rising tide of darkness in the last days before the Rapture of the Church
HOW TO DONATE:   Click here to view our GoFundMe page
When you contribute to this fundraising effort, you are helping us to do what the Lord called us to do. The money you send in goes primarily to the building of the recording studio, but it also goes to the overall daily operations of this site. When people ask for Bibles, we send them out at no charge. When people write in and say how much they would like gospel tracts but cannot afford them, we send them a box at no cost to them for either the tracts or the shipping, no matter where they are in the world. Even all the way to South Africa. We even restarted our weekly radio Bible study on Sunday nights again, thanks to your generous donations.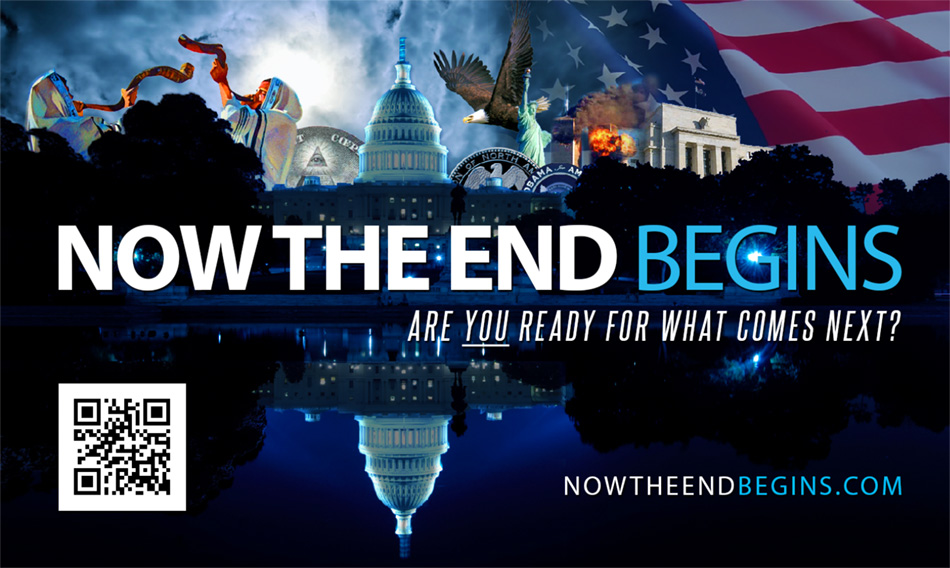 CLICK IMAGE TO ORDER YOUR BOX OF NTEB GOSPEL TRACTS
But whatever you do, don't do nothing. Time is short and we need your help right now. If every one of the 12,621 people on our daily mailing list gave $4.50, we would reach our goal immediately. If every one of our 151,781 followers on Facebook gave $1.00 each, we would reach 300% of our goal. The same goes for our 13,600 followers on Twitter. But sadly, many will not give, so we need the ones who can and who will give to be generous. As generous as possible.
"Looking for that blessed hope, and the glorious appearing of the great God and our Saviour Jesus Christ;" Titus 2:13 (KJV)
"Thank you very much!" – Geoffrey, editor-in-chief, NTEB
HOW TO DONATE: Click here to view our GoFundMe page