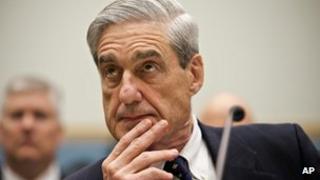 Image caption
Mueller's testimony came during a flurry of hearings and news conferences in Washington on the leaks
The disclosure last week of a pair of top secret surveillance programmes has caused the US "significant harm", the head of the FBI has said.
Robert Mueller also told Congress the US would hunt down and prosecute leaker Edward Snowden.
Mr Snowden, 29, has admitted disclosing information about National Security Agency (NSA) programmes that seize data from US internet and telephone firms.
US officials have promised their own disclosures about the programmes.
"We want to provide the American people the information," NSA chief Gen Keith Alexander said following a closed-door briefing to members of the House of Representatives intelligence committee.
"But we don't want to risk American lives in doing that," he added.
'Exceptionally vulnerable'
Gen Alexander's remarks came amid a flurry of news conferences and hearings on Thursday as Washington grapples with the fallout from last week's disclosures in the Guardian and Washington Post newspapers.
Analysis
By Paul Adams BBC News, Washington
The great 2013 national intelligence debate continues. NSA boss Keith Alexander seems anxious that it should and the president says he welcomes it, even as the Department of Justice works up its case against Edward Snowden. Senator Mark Udall put it well on Wednesday, saying it was hard to have a transparent debate "about a secret program, written by a secret court, issuing secret court orders, based on secret interpretations of the law".
In the anxious aftermath of 9/11, when the Patriot Act was drawn up - and apparently not read by very many people - security trumped openness. Since then, giant technical strides have given the NSA capabilities that lawmakers might only have guessed at a decade ago. Now Gen Alexander wants the public to know what these surveillance capabilities have done, for US and global security, as well as how much more difficult his job would be if the capabilities were taken away again.
Mr Snowden, a former CIA and NSA contract worker, has admitted giving the newspapers information about NSA programmes that seize vast quantities of data from US internet and telephone companies.
In testimony in the House judiciary committee, Mr Mueller said those leaks had caused "significant harm to our nation and to our safety".
The FBI director said the history of US intelligence gathering showed plotters adapt their methods after leaks of classified intelligence material.
"One of my problems is that we're going to... lose our ability to get their communications," Mr Mueller said. "We are going to be exceptionally vulnerable."
In a press conference after the briefing with Gen Alexander, House intelligence committee chairman Mike Rogers said officials hoped to make public next week the details of terror plots supposedly thwarted by information gained from the programmes.
Mr Rogers, a Michigan Republican, said further disclosures would reassure Americans about the scope of US surveillance efforts, including phone records.
"There are no American names in that lockbox," he said. "There are only numbers in that lockbox."
'Surveillance state'
He added if there were a "reasonable suspicion" that a phone number was tied to a terrorist organisation, it would be turned over to the FBI for further investigation.
Representative Dutch Ruppersberger, the top Democrat on the committee, said at least 10 attacks had been thwarted by the programmes.
Media playback is unsupported on your device
Media caption
Gen Alexander: "I believe our security has been jeopardised"
Senators leaving a separate closed-door briefing with Gen Alexander also defended the programmes.
Democrat Ben Nelson of Nebraska said: "It is misunderstood that American private information, emails and phone calls are being rummaged through by the government - that is not true.
"Only when there is probable cause given with a court order of a federal judge can they go into the content of phone calls and emails in order to be able to disrupt a terrorist plot."
But despite the defence of the programmes by President Barack Obama and politicians of both parties, some remain sceptical.
Democratic Senators Ron Wyden and Mark Udall said they had seen no evidence NSA programmes had produced "uniquely valuable intelligence".
"Gen Alexander's testimony yesterday suggested that the NSA's bulk phone records collection programme helped thwart 'dozens' of terrorist attacks, but all of the plots that he mentioned appear to have been identified using other collection methods," the senators said in a joint statement.
In the House, Representative John Conyers, the intelligence committee's top Democrat, said he feared the US was "on the verge of becoming a surveillance state".
What could the NSA access?