President Trump alleged that Democratic Reps. Veronica Escobar and Sheila Jackson Lee "purposely misquoted" his call with the President of Ukraine Volodymyr Zelensky in a Tweet this morning.
Facts First: Trump is correct that the call was misquoted during today's debate over the articles of impeachment in the House Judiciary committee.
In the declassified memo of the July 25 phone call between Trump and President Zelensky, the President says, "I would like you to do us a favor though because our country has been through a lot."
During the debate over impeachment articles, Rep. Escobar, using an analogy to stress the alleged problem in Trump's phone call with Zelensky, said "I want you to do me a favor though." This quote replaces the word "us" found in the memo on the call, with the word "me."
Rep. Jackson, when quoting the memo of the call, said that the quote was "I would like you to do a favor though" — removing "us" from the quote.
As the President tweeted this, Republican Rep. Jim Jordan was making the same points at the hearing.
Last week, Professor Pamela Karlan argued that Trump was using the "royal we" in that sentence and actually asking for a personal favor. But Republicans and Trump have repeatedly claimed the President was asking for a favor for the national interest instead.
Read the full tweet below:
J. Scott Applewhite/AP
Speaker of the House Nancy Pelosi was asked if she's concerned about Democratic members possibly not voting for the articles of impeachment.
While some vulnerable Democrats in swing districts would defect, we're not expecting mass defections, and Democrats will likely have more than enough votes for final passage.
Pelosi said representatives must decide for themselves how to vote — but said the "facts are clear."
"The facts are clear, irrefutable, in fact, and we've given the President every opportunity to demonstrate any exculpatory information he may have," she said.
"We take an oath to protect and defend the Constitution of the United States," she added.
The House Judiciary Committee, which is currently debating the articles of impeachment, is expected to approve them today. After that, it will go to the full House for a vote. Approval there would mean President Trump would officially be impeached.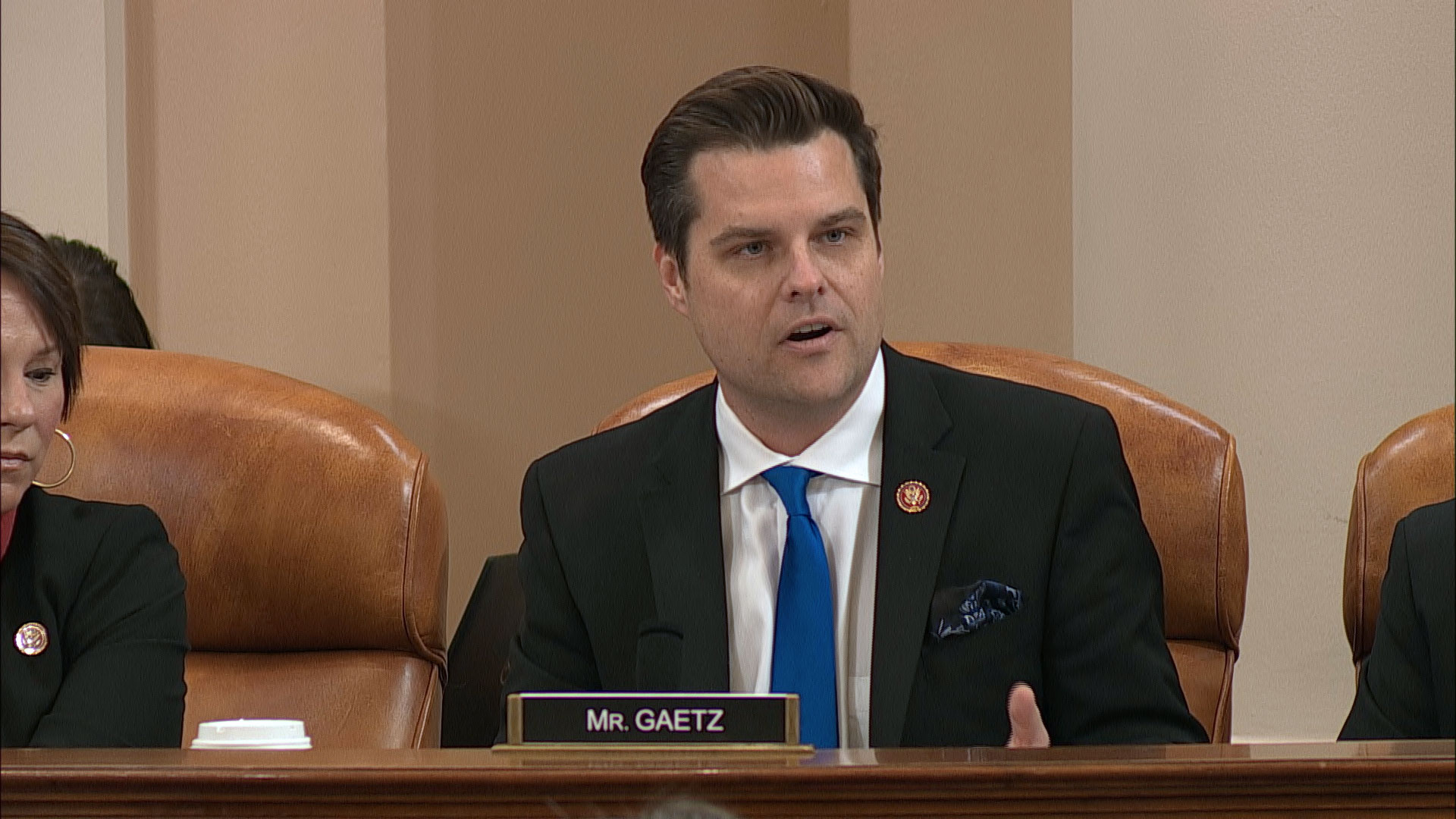 Pool
Rep. Matt Gaetz, a Republican from Florida, said that the impeachment debate "just lacks a certain sincerity" this morning.
He mentioned Democratic Rep. Eric Swalwell in his remarks:
"I heard earlier Mr. Swalwell list out all these crimes," the congressman said. "If I'm watching at home I'm thinking, 'well, where are they in the impeachment?' That is just a Democrat drive-by, to go and list crimes that you don't allege and that you don't have evidence for."
"If there is ever a microcosm of how to consume this day and the importance of it with the American people," Gaetz continued. "It's that they're naming crimes in debate that they don't even have in their impeachment resolution because they can't prove them, because there are no underlying facts."
The congressman also criticized Democrats for "crying these alligator tears, clutching their pearls, over this notion that Trump didn't give this aid" while not raising the same concerns over Ukraine during Obama's presidency.
Watch: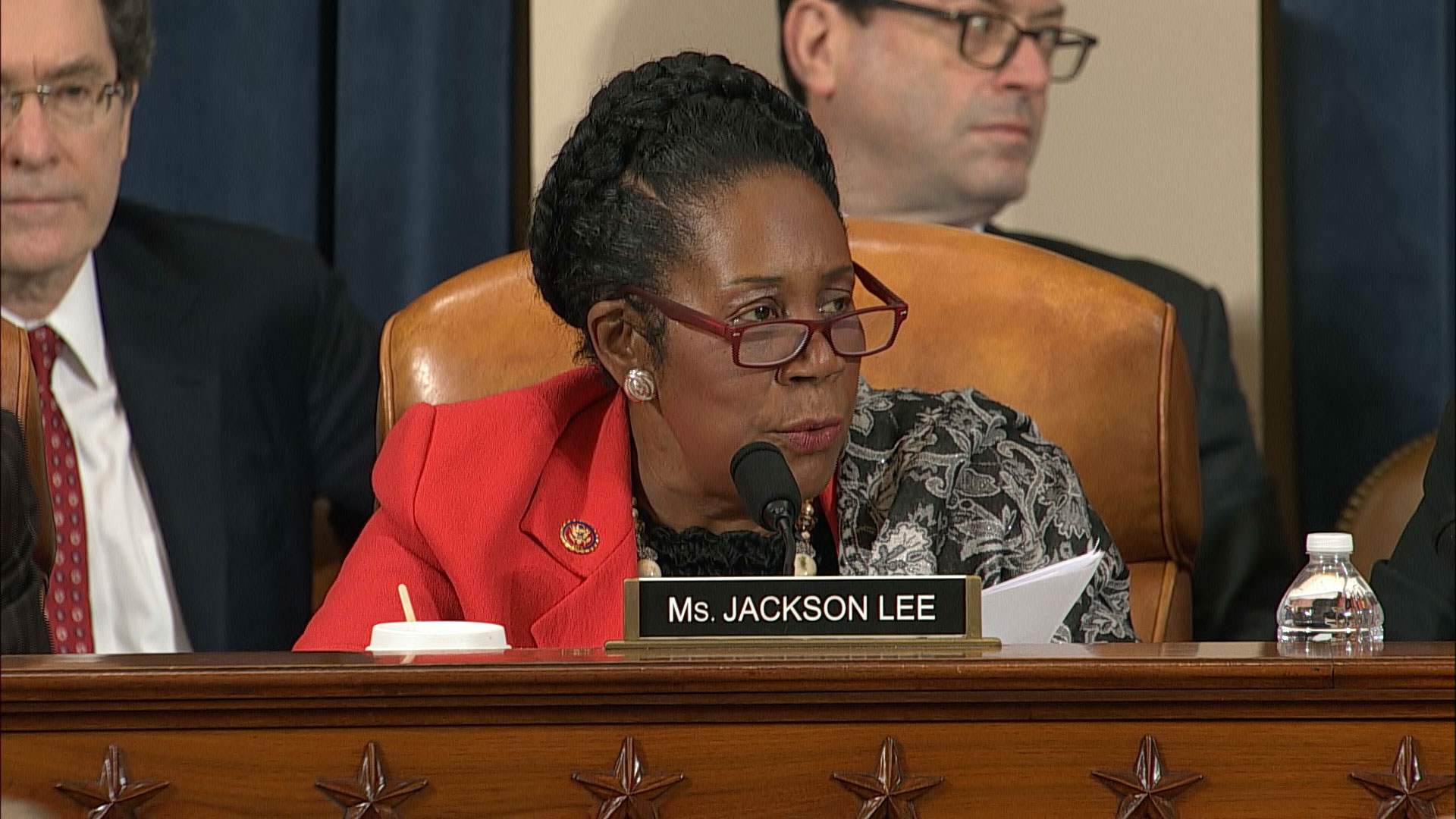 Pool
Sheila Jackson Lee, a Democratic representative from Texas, called President Trump "a continuing threat not only to democracy but to our national security."
The congresswoman read aloud from a printout of Trump's July 25 phone call with Ukraine, highlighting lines in which the President asked for a "favor" and discussed military equipment.
"The next sentence should have been, I think, 'we are well aware of your difficult predicament. Going to have you talk to the secretary of defense," Jackson Lee said. "But it said, a couple of sentences later, 'I'd like the attorney general to call your people and get to the bottom of it, investigation."
"It is not frivolous or without fact that we proceed. We proceed with facts. And we take this in a very somber manner," she said.
Watch: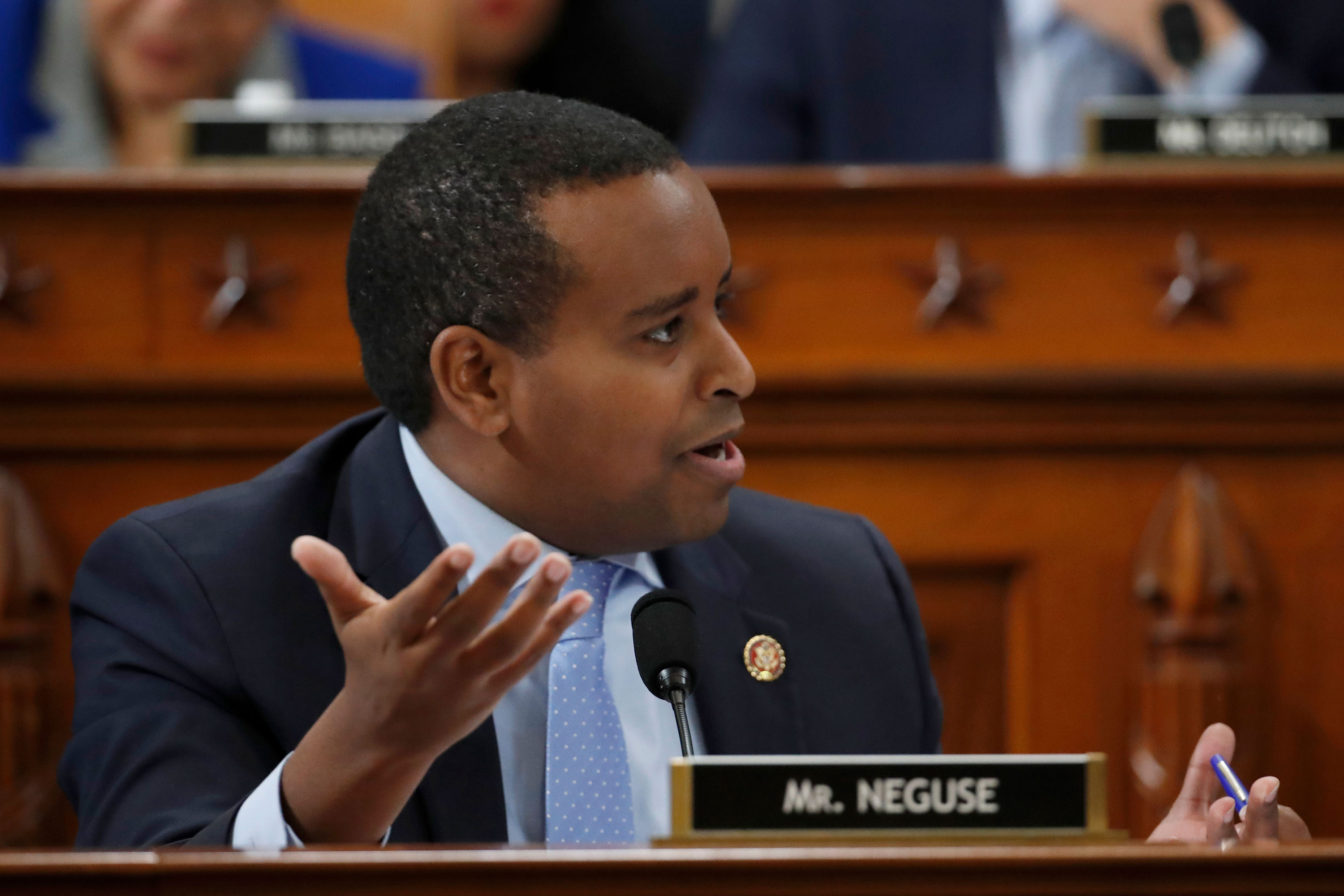 Alex Brandon/AP
Rep. Joe Neguse, a Democrat from Colorado, called for representatives to "dispense with these process arguments" and "stay true to the facts" during today's impeachment hearing.
"I understand that we're going to have a robust debate about the legal standards that govern the inquiry that is before us, the decision we make on these articles," Rep. Neguse said, "but let's stay true to the facts, and let's dispense with these process arguments and get to the substance of why we're here today."
Neguse also said: "I've heard very little in the way of any substantive defenses of the President's conduct."
Watch:
Pool
House Judiciary Chair Jerry Nadler introduced an amendment to change references of "Donald J. Trump" to "Donald John Trump" in the articles of impeachment.
Doug Collins, the ranking member on the committee, was given time to respond to the amendment — and he said it showed the "absurdity" of impeachment.
"The amendment, nature of a substitute is absolutely irrelevant. Taking Donald J. Trump and making it Donald Trump — John Trump just simply shows the frankly absurdity of where we're at," Collins said.
Instead of responding further to the amendment, he took time to rail against the Democrats' impeachment inquiry process.
"This committee has now sounded the death of minority rights in this committee. This committee has become nothing but a rubber stamp," he said. "Facts be damned. They don't care."
Watch more:
House Judiciary Chair Jerry Nadler called on a clerk to read the two articles of impeachment against President Trump.
"I now call House resolution 755 impeaching Donald John Trump, President of the United States, for high crimes and misdemeanors," he said.
Watch:
Rep. Doug Collins, the top Republican on the House Judiciary Committee, interrupted Chairman Jerry Nadler to condemn the consideration of articles of impeachment.
"I make a point of order against the consideration of this resolution on the grounds the chairman willfully refused to schedule a properly demanded minority day of hearings," Collins said.
Nadler said the committee would "entertain that point of order" after the resolution has been read.
Watch the moment:
The House Judiciary Committee just gaveled into session. Today, the members are considering amendments to the articles of impeachment against President Trump.
After they finish the amendment process, the committee is expected to approve the articles.
How long will this take? We're not exactly sure. The committee members can go as long as they want today. But there's a congressional ball at the White House at 7 p.m. ET, and according to multiple sources, a number of members — particularly Republicans — are expected to attend.