"Own risk assets...everywhere... everywhere" says Embark Group's CIO Peter Toogood, exclaiming that "this is nothing to do with fundamentals anymore, fill your boots, why not?"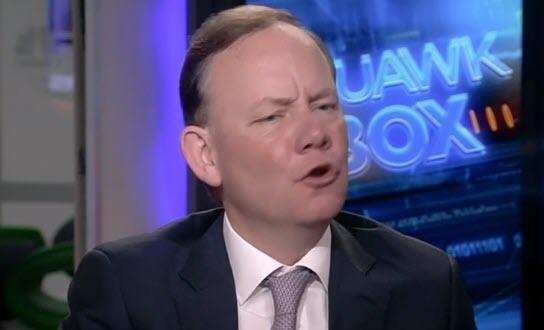 After The Fed entirely flip-flopped from last year, the clearly frustrated manager notes the facts behind the so-called market, "flooding the repo market with $400, $500 billion from The Fed to stop it collapsing after it reversed course massively from last year..."
"..we'll just keep pumping... and we'll just keep pumping... and it's not QE they tell us, definitely not QE... and its worked for the last 8 years so we'll just keep pumping more..."
It's quit simple, Toogood notes, "all CTAs have gone long, most macro funds are long, the biggest engines in London are as long as they can be... and vol is on the floor..."
"Just keep going..." he chides sarcastically:
"...until you don't, until the music stops... I'm being incredibly flippant but for a very good reason...  there is no logic to [buying risk assets like equities] other than to chase the gilded lily... it's nuts!"
The anchor attempted to get the conversation back on track, by mentioning earnings, to which Toogood scoffed -
"Earnings! Earnings? Are they relevant?"
As the chart below shows, no!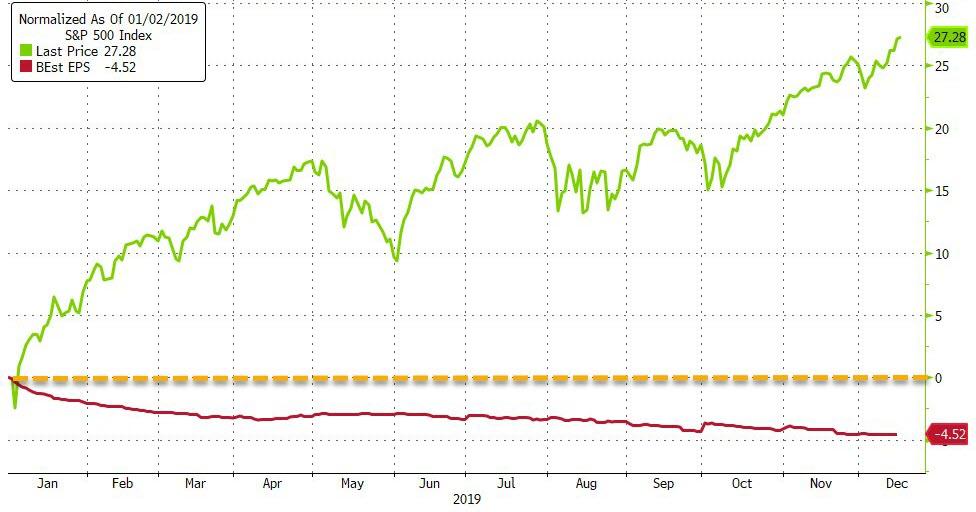 Source: Bloomberg
Everything has changed, "we've gone from tightening mode to loosening mode, extremely loose... The Fed says 'rates are on hold' but we'll just keep this 'little' repo thing going a little while longer..."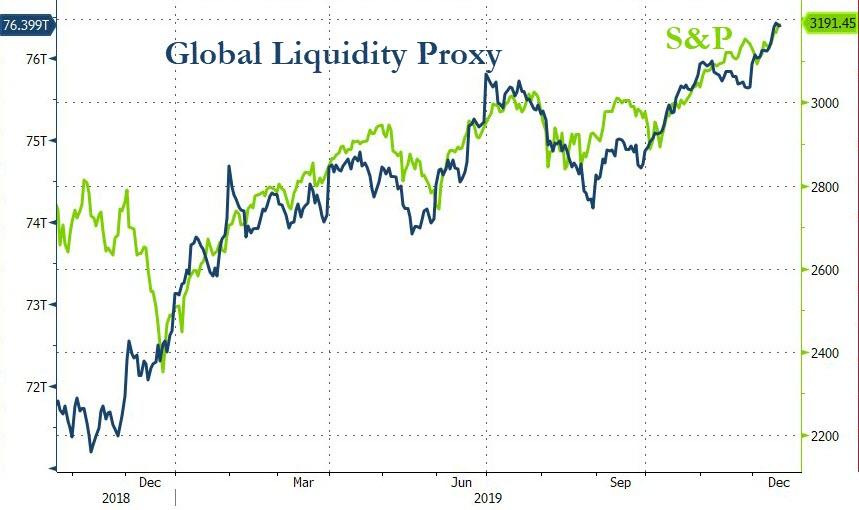 Source: Bloomberg
Toogood then took aim at the farcical "phase one" trade deal with China that "doesn't actually mean anything" and warned that the next year will be full of "phase two talks are going well" jawboning.
This is not reality, "the world was slowing down long before this trade deal became the biggest issue."
It's bonds that make more sense, he concludes, reflecting the massive total debt in the world and the consumer being loaded with personal debt as a tamper on overall economic growth.
"It's Insane... but it's gonna carry on because The Fed is absolutely in hock to what they created... which is a monstrous beast of over-inflated valuation."
We could not have said it better.