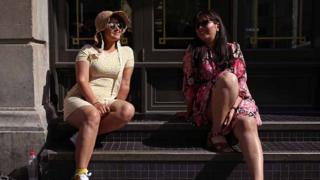 Image copyright
PA Media
The prime minister has announced a series of measures to take effect from 4 July, easing the lockdown in England.
Distancing guidelines
From 4 July the 2m distancing rule will be changed.
The prime minister said that where it is not possible to stay 2m apart, people should keep a distance of "one metre plus" - this means staying one metre apart, while observing precautions to reduce the risk of transmission.
Hospitality
Restaurants and pubs will also be allowed to reopen, providing they follow safety guidelines.
All hospitality indoors will be limited to table service, and contact between staff and customers will be limited.
Customers will also have to give contact details when they enter a pub or restaurant.
Holiday accommodation - including hotels, B&Bs, cottages, campsites and caravan parks - can also reopen, and people in England will be free to stay away from home overnight for the first time since lockdown began in March.
Meeting other households
Two households of any size will be able to meet indoors or outside. It will be possible to stay overnight.
This does not have to be the same set of households - the prime minister said. "It will be possible for instance to meet one set of grandparents one weekend, and the others the following weekend."
However, the government does not not recommend meetings of multiple households indoors because of the risk of infection.
Outdoors, people from multiple households can meet in groups of up to six - but two households can meet regardless of size.
What else will reopen?
More outdoor spaces will open if they can do so safely, including outdoor gyms and children's playgrounds
Hairdressers will be able to reopen, as long as they take precautions. Other close-contact services such as nail bars will not yet open, but the prime minister said they would be able to open "as soon as we're confident they can operate safely"
Image copyright
PA Media
Image caption
Art galleries will be able to reopen on 4 July
Libraries, community centres, bingo halls, cinemas, museums and galleries will be able to open, along with funfairs and theme parks, amusement arcades, outdoor skating rinks, indoor leisure centres, social clubs and model villages
Places of worship will be able to open for prayers and services, including weddings with up to 30 guests - subject to social distancing
What will remain closed?
Nightclubs and casinos remain closed, along with bowling alleys, spas, swimming pools and indoor soft play centres
Theatres and concert halls will not be able to host live performances - but the prime minister said the government would work with the arts industry on specific guidance to enable choirs, orchestras and theatres to resume live events as soon as possible
Content available only in the UK