A new poll reveals that more Americans blame House Speaker Nancy Pelosi for the stalled stimulus deal than President Trump.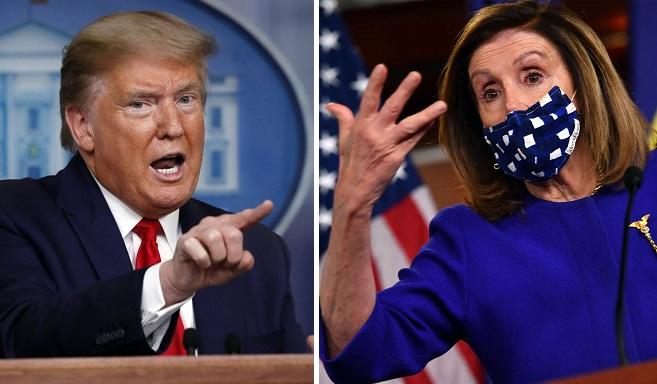 According to a poll conducted Oct. 9-11 by left-leaning YouGov, 43% of those polled blamed Pelosi for failing to reach a stimulus deal, while 40% blame President Trump. 17% were unsure.
Pelosi, the target of a new bill introduced by Rep. Doug Collins (R-GA) which seeks to remove her over a 'lack of mental fitness,' got into a testy exchange on Tuesday with CNN's Wolf Blitzer - biting his head off when he asked why she wouldn't accept Trump's $1.8 trillion stimulus deal (while citing several prominent Democrats who want her to take it).
"I don't know why you're always an apologist and many of your colleagues are apologists for the Republican position," replied Pelosi.
Things got contentious at the end of the interview between Speaker Pelosi and Wolf Blitzer 😳😳😳 pic.twitter.com/vZWp08evB0

— Daily Caller (@DailyCaller) October 13, 2020
As the Daily Caller notes, Rep. Ro Khanna tweeted on October 11 that the $1.8 trillion "is significant & more than twice [the] Obama stimulus" (to which Pelosi scoffed).
People in need can't wait until February. 1.8 trillion is significant & more than twice Obama stimulus. It will allow Biden to start with infrastructure. Obama won in 08 by doing the right thing on TARP instead of what was expedient. Make a deal & put the ball in McConnell court. https://t.co/qAEtd049sW

— Ro Khanna (@RoKhanna) October 11, 2020