October 23, 2020 at 2:55 pm EDT By Taegan Goddard Leave a Comment
New York Times: "Universal mask use could prevent nearly 130,000 deaths from Covid-19 in the United States through next spring, scientists reported on Friday."
"The new study, published in the journal Nature Medicine, also offered a rough estimate of the pandemic's toll in the United States: perhaps 500,000 deaths by March 2021, even with social distancing mandates reinstated in most states."
Recent Posts
Ivanka Trump and Jared Kushner sent a cease-and-desist letter to The Lincoln Project demanding that the anti-Trump group take down billboards in Times Square criticizing the White House's response to…
"Joe Biden got a late boost in the White House race Friday when he scored the endorsement of a prominent alliance of construction unions," The Hill reports. "North America's Building…
The Wrap: "For those keeping track of political beefs, add Republicans Lou Dobbs and South Carolina Sen. Lindsey Graham to your list. Because on Friday's episode of his Fox Business…
"After weeks of wavering, the national Republican party has formally thrown its support behind Marjorie Taylor Greene, the Georgia Republican House candidate who is openly supportive of QAnon," the Daily…
USA Today: "As President Trump jetted across the country holding campaign rallies during the past two months, he didn't just defy state orders and federal health guidelines. He left a…
President Trump, who declared "I don't make money from China" in Thursday night's presidential debate, has in fact collected millions of dollars from government-owned entities in China since he took…
A secret recording shows that three Republican officials sought to frame a county Republican chairman for a falsified ad they put together smearing then-mayoral candidate Brandon Whipple (D), who is…
The U.S. confirmed at least 83,010 coronavirus cases on Friday, the country's highest daily total since the pandemic started, Axios reports. Experts are warning that the U.S. is "facing a…
President Trump told Religion News Service that he no longer identifies as a Presbyterian and now sees himself as a non-denominational Christian. Save to FavoritesTwitterFacebookLinkedInEmail
A Politico/Morning Consult poll found that 54% of debate watchers believed Joe Biden won the matchup, while 39% said Donald Trump did. Only 8% of those who watched said they…
New York Times: "In President Trump's telling, he is a committed philanthropist with strong ties to many charities… And according to his tax records, he has given back at least…
"Can you smell through that mask? Then you're not stopping any sort of a virus. It's part of the dehumanization of the children of God. You're participating in it by…
New York Times: "Iowa's governor is not on the ballot next month. But her defiant attitude toward the advice of health experts on how to fight the coronavirus outbreak, as…
Nicholas Lehmann: "Trump will not be President forever—he may be in the role for only a few more months. It's hard to imagine that the Republican Party could come close…
"President Trump and his campaign have cited increased Republican voter registrations as a sign he still has a viable path to re-election, despite public polls showing him headed for a…
From Data for Progress: NORTH CAROLINA: Biden 48%, Trump 44% From Meredith College: NORTH CAROLINA: Biden 48%, Trump 46% From Susquehanna Polling & Research: ARIZONA: Biden 46%, Trump 46% From…
Click here for an interactive version.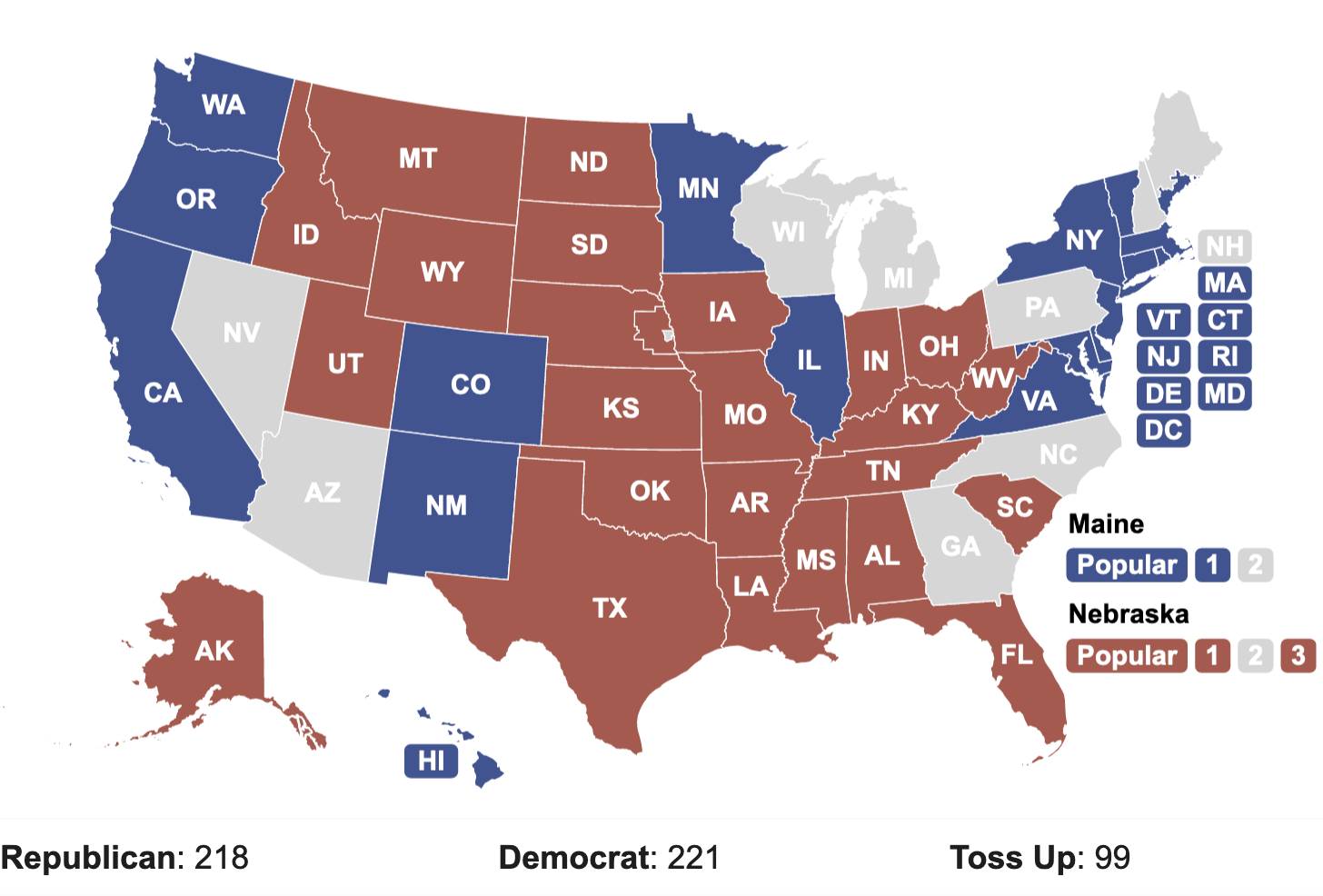 About Political Wire
Taegan Goddard is the founder of Political Wire, one of the earliest and most influential political web sites. He also runs Political Job Hunt, Electoral Vote Map and the Political Dictionary.
Goddard spent more than a decade as managing director and chief operating officer of a prominent investment firm in New York City. Previously, he was a policy adviser to a U.S. Senator and Governor.
Goddard is also co-author of You Won - Now What? (Scribner, 1998), a political management book hailed by prominent journalists and politicians from both parties. In addition, Goddard's essays on politics and public policy have appeared in dozens of newspapers across the country.
Goddard earned degrees from Vassar College and Harvard University. He lives in New York with his wife and three sons.
Praise for Political Wire
"There are a lot of blogs and news sites claiming to understand politics, but only a few actually do. Political Wire is one of them."
— Chuck Todd, host of "Meet the Press"
"Concise. Relevant. To the point. Political Wire is the first site I check when I'm looking for the latest political nugget. That pretty much says it all."
— Stuart Rothenberg, editor of the Rothenberg Political Report
"Political Wire is one of only four or five sites that I check every day and sometimes several times a day, for the latest political news and developments."
— Charlie Cook, editor of the Cook Political Report
"The big news, delicious tidbits, pearls of wisdom — nicely packaged, constantly updated… What political junkie could ask for more?"
— Larry Sabato, Center for Politics, University of Virginia
"Political Wire is a great, great site."
— Joe Scarborough, host of MSNBC's "Morning Joe"
"Taegan Goddard has a knack for digging out political gems that too often get passed over by the mainstream press, and for delivering the latest electoral developments in a sharp, no frills style that makes his Political Wire an addictive blog habit you don't want to kick."
— Arianna Huffington, founder of The Huffington Post
"Political Wire is one of the absolute must-read sites in the blogosphere."
— Glenn Reynolds, founder of Instapundit
"I rely on Taegan Goddard's Political Wire for straight, fair political news, he gets right to the point. It's an eagerly anticipated part of my news reading."
— Craig Newmark, founder of Craigslist.