DBU - En Del Af Noget Større

(@DBUfodbold)

Christian Eriksen er vågen og er til yderligere undersøgelser på Rigshospitalet.

Kampen er midlertidigt udsat. Ny melding kommer kl. 19.45.

June 12, 2021
I'm reliably informed that this says Eriksen "is awake" and undergoing tests in hospital.
Christian Eriksen: It has been confirmed that the 29-year-old Danish midfielder has been taken to hospital and stabilised after collpasing on the pitch of the Parken Stadium in Copenhagen moments before half-time. There are photos of a conscious Eriksen being stretchered off the pitch, wearing an oxygen mask and with his eyes open.
Unconfirmed reports suggest that either Eriksen or one of the medics treating him – and hats off to them, by the way – gave fans the thumbs-up as he left the pitch.
The Danish FA have just reported that Eriksen is "awake". Thank God for that.
Update: England have cancelled their media duties, as Gareth Southgate and Harry Kane, a friend and former team-mate of Erikssen's, felt it would be inappropriate to take questions from the press at this difficult time for everyone with a love for football.
Eriksen in hospital 'and stabilised'
Some good news. Uefa report that Eriksen hasd been transferred to hospital and been stabilised.
UEFA

(@UEFA)

Following the medical emergency involving Denmark's player Christian Eriksen, a crisis meeting has taken place with both teams and match officials and further information will be communicated at 19:45 CET.

The player has been transferred to the hospital and has been stabilised.

June 12, 2021
Updated at 1.30pm EDT
Denmark v Finland: There are pictures in circulation from a reputable news organisation, which I have seen but am not going to publish here, that suggest Eriksen was conscious and wearing an oxygen mask as left the pitch on a stretcher. We can but hope they are genuine. There are no official updates on his condition yet.
Updated at 1.27pm EDT
Denmark v Finland: The game has, for the time being suspended and it seems very unlikely to continue this evening. Obviously the actual match could not be more unimportant and everyone's thoughts are with Christian Eriksen.
He has been removed from the pitch on a stretcher and a kind Danish reader has emailed to say he is only 500 metres from the most renowned hospital in Copenhagen, where he will receive the best possible care.
Denmark v Finland: I have no further reports to bring you at the moment and I'm not about to engage in idle London-based speculation about what's going on in a small corner of a field in Copenhagen. My hands are shaking here, so it's a little difficult to type. I will bring you any confirmed news as it comes. It's worth saying again: C'mon Christian! Fight!
What we know: The ball went out of play for a Denmark throw-in down near the corner flag. Rushing to receive the ball from whoever was taking it, Christian Eriksen collapsed face first into the turf as the ball hit his knee.
Two nearby Finnish players, a Dane and referee Anthony Taylor immediately signalled for urgent medical assistance. Soon after that arrived, one of the Danish medical team was seen performing compressions on Eriksen's chest as his teammates formed a ring around him and the staff treating him.
As of five minutes ago, Eriksen was still receiving treatment on the pitch. The BBC have ended their coverage and I'm told the match has been postponed. This is awful.
Updated at 1.05pm EDT
Denmark v Finland: On the BBC, they've cut back to the studio and probably not before time. Gary Lineker, Cesc Fabregas, Alex Scott and Micah Richards all look in total shock, as am I. It's difficult to know what to type here, really. Please God, Christian will be OK.
Denmark v Finland: A young woman, who I guess is Eriksen's wife or partner has made her way on to the pitch and is being consoled by Denmark skipper Simon Kjaer and Kasper Schmeichel. The Finland players, looking very shaken, have retired to the dressing-room. Denmark's distraught players continue to form a wide circular shield around their stricken team-mate.
Denmark v Finland: Christian Eriksen collapsed down by one corner flag near the touchline. His own team-mates and a couple of Finland players immediately signalled to referee Anthony Taylor that he needed urgent medical attention.
I think Taylor had spotted that anyway and immediately halted play so the medical staff could come on and work on the midfielder. They continue to do so while the clearly concerned players of Finland maintain a respectful distance on the other side of the pitch.
Updated at 1.20pm EDT
45+2 min: As the players of Denmark, some of them distraught, form a shield around their team-mate Christian Eriksen while the team's medical staff work on him, those from Finland are keeping their distance but also look incredbly concerned and upset. The crowd has fallen largely silent. This is truly traumatic for all present at the Parken Stadium. Come on, Christian!
45 min: This is truly awful. Erikssen is being resuscitated on the pitch as his distraught team-mates stand around him in an outward facing ring to shield him and give their teammate and the medical staff looking after him some privacy. He just dropped face first into the ground as he went to receive a throw-in.
Updated at 12.54pm EDT
44 min: Erikssen appears to be getting CPR on the pitch. Oh my, this is awful! His teammates are standing around creating a kind of human screen to give him some privacy as the medical staff attend to him. I think I can see somebody pumping his chest.
Game stops after Christian Eriksen collapses
42 min: There's huge concern from referee Anthony Taylor and the players of Denmark as Christian Eriksen goes to ground. I think he just collapsed and fell over as he went to receive a throw in. This is very worrying.
Updated at 1.01pm EDT
40 min: Danish right-back Daniel Wass heads the ball straight into the arms of Hradecky after connecting with a cross. Moments previously, Martin Braithwaite had cut inside from the left and shoots well wide.
38 min: Pukki is cutting an isolated figure up front for Iceland, whose plan is to sit back, soak up Denmark's pressure and then try to hoist the ball his way and hope for the best. Swap Pukki for Burak Yilmaz and it's pretty much what Turkey tried to do against Italy last night ... a tactic that worked, for a while.
37 min: A Christian Eriksen cross from the right flank is headed clear by Finland. They're hanging in there but are being outclassed in nearly every department.
35 min: Shaughnessy resumes play with a swab of cotton wool stuck up one nostril. Denmark float a free-kick from deep towards the far post, where Hradecky gathers for Finland.
32 min: finland defender Daniel O'Shaughnessy goes down after shipping a blow to the head, prompting referee Anthony Taylor to stop play so he can receive treatment. He seemed to clash heads with Simon Kjaer.
29 min: For Denmark, Yussuf Yurary tries to get on the end of a curled cross to the far post. Finnish defender Jere Urenon tries to clear it and collides with his own goalkeeper Lukas Hradecky, who is hardly inspiring confidence in his team-mates. Following a break for medical attention, Urenon is fit to continue.
28 min: Teemu Pukki is flat on his back halfway inside the Denmark half after getting an accidental arm in the face from Andreas Christensen. He seems to be OK.
27 min: For Denmark, Martin Braithwaite finds himself with the ball at his feet a little left of goal but slices his shot wide of the left upright.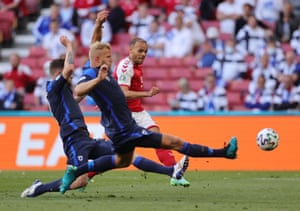 Martin Braithwaite misses an opportunity. Photograph: Friedemann Vogel/Reuters
Updated at 12.32pm EDT
25 min: Daniel O'Shaughnessy hurls another long throw into the Denmark box, where Joel Pohjanpalo leaps but only gets a shoulder to it.
23 min: Teemu Pukki gets his first sniff, trying to out-sprint Simon Kjaer and latch on to a long ball. Kjaer holds him back and Pukki gets a free-kick. He was through on goal if he hadn't been fouled there but Kjaer doesn't get a c ard of any colour. From the free-kick, Finland get a throw-in.
21 min: Denmark win a corner and Andreas Christensen and Simon Kjaer lumber up from their centre-half positions. The inswinger bounces and sits up nicely for an unmarked Thomas Delaney about eight yards from goal, but he fires over the bar.
20 min: Denmark win a throw-in deep in Finland territory, down by the corner flag. The newcomers clear their lines.
Updated at 12.31pm EDT
19 min: Christian Eriksen brings another smart save out of Luka Hradecky, who dives to his right to parry a curling shot from distance from the Danish midfielder.
17 min: Nothing comes from the ensuing corner, which Finland clear. THey are being completely dominated but haven't conceded yet.
15 min: Brilliant from Hradecky in the Finland goal, who seems determined to hog the headlines. He contorts himself in mid-air to tip a header from Pierre-Emile Hjobjerg over his own bar.
12 min: Hradecky is called into action again. He plucks a Christian Eriksen corner from the air. Denmark's players are trying to unerve him, crowding him on his own goal line.
Updated at 12.15pm EDT
8 min: Finland goalkeeper Lukas Hradecky is having a baptism of fire. He saves a shot from distance from Jonas Wind, moments after fumbling another effort in his own box after some pinball in the penalty area. Denamrk are bossing proceedings in these early stages.
Richard Osman

(@richardosman)

Delaney tackles O'Shaughnessy. It could only be Denmark v Finland.

June 12, 2021
4 min: Finland's Robin Lod is penalised for a clumsy challenge on Martin Braithwaite and goes in the refereee's notebook early doors.
2 min: Finland win another throw-in, this time deep in Denmark territory. Daniel O'Shaughnessy has a powerful long throw on him and Delaps the ball deep into the Denmark penalty area. They clear.
Denmark v Finland is go ...
1 min: The pre-match formalities between captains Simon Kjaer and Tim Sparv over, Denmark get the ball rolling. Finland win an early throw-in halfway inside their own half, which Daniel O'Shaughnessy takes.
Not long now: Referee Anthony Taylor leads the teams out on to the Parken Stadium sward, the Danes wearing their customary red and white shirts, the Finns in navy. Both sets of players line up either side of the team of match officials and it's times for the anthems. What a moment this must be for the players of Finland.
Colin Millar

(@Millar_Colin)

Finland v Denmark means Daniel O'Shaughnessy v Thomas Delaney in the most Irish-sounding non-Irish internationals battle.

O'Shaughnessy's father Robert is from Galway. Delaney's paternal great grandfather moved to the US from Ireland during The Great Hunger of the 1840s.

June 12, 2021
Match report: Wales 1-1 Switzerland
Group A: Wales came from behind to rescue a point against Switzerland in a game they were perhaps lucky not to lose. Ben Fisher was at the Baku Olympic Stadium. Here's how he saw the match unfold ...
Kieffer Moore makes point for Wales against Switzerland at Euro 2020
Denmark v Finland line-ups
Denmark: Schmeichel, Kjaer, Maehle, Christensen, Delaney, Braithwaite, Eriksen, Wass, Wind, Poulsen, Hojbjerg
Subs: Lossl, Rannow, Andersen, Vestegaard, Skov Olsen, Dolberg, Damsgaard, Norgaard, Stryger, Cornelius, Jensen, Boilesen
Finland: Hradecky, Arajuuri, O'Shaughnessy, Toivio, Kamara, Lod, Pukki, Sparv, Uronen, Pohjanpalo, Raitala
Subs: Joronen, Jaakkola, Vaisanen, Taylor, Jensen, Schuller, Soiri, Hamalainen, Kauko, Lappalainen, Ivanov, Forss
Pre-match listening
The Guardian's Football Weekly podcast has gone daily for the duration of the Euros and will be recording at the close of play each night. You can listen to our first episode here. If you are not already a subscriber, you can download – free of charge – from all the usual pod platforms.
Italy kick off in style and Bale leads Wales in Baku – Euro 2020 Football Daily
Updated at 10.49am EDT
Finland's captain speaks: Well, writes. Tim Sparv took time out from his preparations for Euro 2020 to write a guest column for the Guardian revealing what qualification means to him, his team-mates and their compatriots.
Finland has waited so long for this: at Euro 2020, it's our turn at last | Tim Sparv
Tonight's match officials
Anthony Taylor leads an all English judge and jury in Copenhagen tonight. We wish him well, even if the sight of Stuart Attwell on VAR duty is perhaps a cause for concern.
Referee: Anthony Taylor
Referee's assistants: Gary Beswick and Adam Nunn
Fourth official: Sandro Scharer
VAR: Stuart Attwell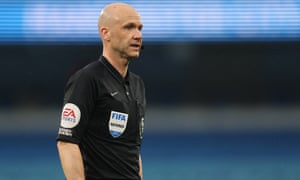 Anthony Taylor is in charge of maintaining order during tonight's game. Photograph: Matthew Ashton - AMA/Getty Images
Denmark's goalkeeper Kasper Schmeichel gets his eye in during his team's training session at the Parken Stadium. Photograph: Martin Meissner/AP
Euro 2020 team guides part 6: Denmark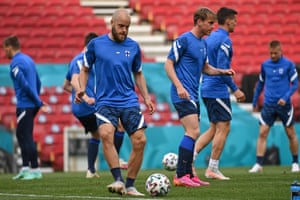 Finland striker Teemu Pukki and his teammates train at the Parken Stadium yesterday. Photograph: Jonathan Nackstrand/AFP/Getty Images
Euro 2020 team guides part 7: Finland
Euro 2020 Group B: Denmark v Finland
It's an exciting, landmark day in the history of Finland as the home of Jari Litmanen, Kimi Raikonnen and Jean Sibelius line up in the finals of a major football tournament for the very first time. Markku Kanerva's side surprised many across the continent, including plenty of his own compatriots, by finishing as group runners-up behind Italy in qualifying and while little is expected of a team ranked 54th in the world this summer, they will be hoping to bloody a couple of noses now they've finally arrived on the big stage.
They take on a Denmark side packed full of household names, among them Kasper Schmeichel, Christian Eriksen, Martin Braithwaite and Pierre-Emile Hojbjerg and managed by Kasper Hjulmand, an interesting character who took up coaching when his playing career was cut short by a knee injury he suffered at the age of 26. They are many people's idea of tournament "dark horses". But then so were Turkey and look what happened to them last night.
In a huge boost to their chances, Denmark will enjoy home advantage for their three group games and will play in front of 11,250 fans in their 38,000 Parken Stadium. Kick-off is at 5pm (BST) but stay tuned in the meantime for team news and build-up.
Updated at 10.32am EDT