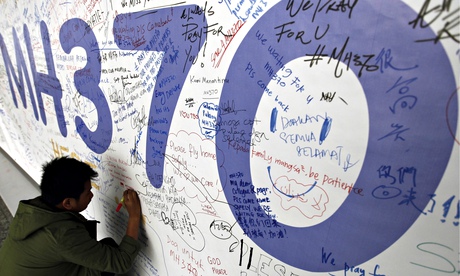 Art imitating life? … Deep Water contains similarities to the ongoing situation with flight MH370. Photograph: Mak Remissa/EPA
An Australian drama about a plane which crashes on its way to China is to move forward despite unfortunate similarities with missing Malaysian Airlines flight MH370.
Alister Grierson's film Deep Water will centre on the fate of a group of passengers who survive when their plane goes down during a flight to Beijing. The film-maker, whose 3D cave diving disaster movie Sanctum is one of the highest-grossing Australian films of all time, admitted the plot of his film tallied in some ways with real-life events.
"The similarities and timing is interesting and I can see why anecdotally the two things link up. It's a tricky thing," he told Mail Online. "But in simple terms, Deep Water is about an accident that happens on an aeroplane which goes down in the ocean, and the survivors trying to stay alive afterwards. It's more complicated than that as there's villains and sharks, but it's a fun action/adventure with thrills and spills and scares.
"Nobody knows what has happened with the Malaysian aeroplane. We're yet to find out whether it will be revealed as a malfunction or even found."
Grierson said Deep Water would not hit cinemas for around two years, allowing the furore around real-life events to die down before the movie debuts on the big screen. Likely to be a Chinese co-production, the film began pre-production in Queensland just prior to 8 March, when MH370 went missing during its flight from Kuala Lumpur international airport to Beijing capital international airport.
Grierson was handpicked by James Cameron to use the Canadian film-maker's 3D Fusion Camera System on Sanctum. The film opened in February 2011 and subsequently took more than $100m (£60.5m) at the global box office.
Images taken by Chinese and French satellites and separate sightings of scattered debris have now become the focus of the search for flight MH370 in the Indian ocean. On Sunday, Malaysian authorities said new French satellite images showed "potential objects" related to the flight in the seas off Australia.