13 January 2014 Last updated at 23:51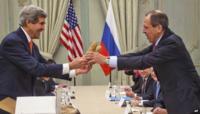 You say potato, I say kartofel: Mr Kerry said that he wanted to surprise his Russian counterpart with a quality American gift
US Secretary of State John Kerry has presented his Russian counterpart Sergei Lavrov with two Idaho potatoes as a gift during a meeting in Paris.
Mr Kerry said that Mr Lavrov had mentioned Idaho state's most famous export the last time the pair met.
The Russian foreign minister seemed to appreciate the gift, commenting that they were "impressive."
The two men are in France to negotiate details of a peace conference on Syria scheduled for 22 January.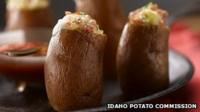 Idaho potatoes
The term refers to any potato grown in the state of Idaho, although it is most frequently used to describe Russet potatoes from the state
Idaho potatoes are large, starchy potatoes with brown skin and white flesh
Because of their high starch content, Idaho potatoes are good for baking and mashing as well as making potato chips
Fans say that Idaho's growing season of warm days and cool nights, mountain-fed irrigation and rich volcanic soil give Idaho potatoes their unique texture
They have discussed the possibility of "localised ceasefires" in Syria ahead of the peace in Switzerland.
Tension between Washington and Moscow has risen in recent months because of intelligence leaked by ex-National Security Agency contractor Edward Snowden.
The 30-year-old has temporary asylum in Russia after leaking details of US electronic surveillance programmes.
'Carrot-and-stick'
Mr Lavrov, speaking in English, suggested the potatoes may have symbolic use as the Syria negotiations approach.
"The specific potato which John handed to me has the shape which makes it possible to insert potato in the carrot-and-stick expression. So it could be used differently," he said.
Mr Kerry said that there was "no hidden meaning.... and no metaphor" behind the gift.
"We were having a good conversation in the course of the Christmas break over the subject of Idaho, which was where I was at the time, and he recalled the Idaho potatoes as being something that he knew of, so I thought I would surprise him and bring him some good Idaho potatoes," he said.
In return the Russian side presented Mr Kerry with a pink fur hat for State Department spokeswoman Jen Psaki.