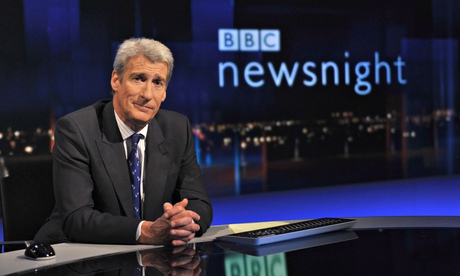 Jeremy Paxman will host his final edition of Newsnight in June. Photograph: Jeff Overs/BBC/PA
Jeremy Paxman has announced he is to quit his job as rottweiler-in-chief at Newsnight after 25 years.
The broadcaster – famous for asking Michael Howard the same question 12 times – joined BBC2's flagship late-night news show as a presenter in 1989.
The BBC said Paxman had informed them of his decision to step down last summer, but had agreed to stay on for another year under the new editor, Ian Katz, who was brought in to stabilise the programme after the Jimmy Savile and Lord McAlpine crises.
The presenter, who is about to turn 64, will continue in his role as presenter of University Challenge. He will host his final Newsnight show in June.
Long thought to be the best-paid presenter in BBC News, Paxman earned about £800,000 a year for his work on Newsnight and at University Challenge.
The announcement that he is stepping down comes after reports that Newsnight ratings have slumped to 600,000 viewers a night. Paxman, though, has been the programme's most popular presenter.
He did not spare his employer, despite a career spanning over four decades in the organisation. In October 2013, the pugilistic presenter said he had "seriously considered" quitting Newsnight after the Savile and McAlpine scandals dealt a hammer blow to the reputation of the BBC2 show.
Then a fortnight ago he complained in an interview with the Guardian: "There's a pile of stuff on the BBC I can't stand. My idea of hell is going down in one of the lifts in that ghastly new building [New Broadcasting House] in a lift which has Radio 1Xtra plumbed into it. I don't quite understand why the BBC does Radio 1Xtra."
That prompted the Radio 1 boss Ben Cooper to ask him to "consider" the impact his opinions had.
Some of Paxman's more memorable moments as the presenter of Newsnight include his 1998 interview with Denis Halliday, a United Nations humanitarian coordinator who had resigned his post in Iraq. Questioning his motives, Paxman asked him: "Aren't you just an apologist for Saddam Hussein?"
It was a performance that he repeated in 2003 when interviewing Tony Blair about his decision to invade Iraq. Chairing a debate in front of a live audience, Paxman asked Blair if he and the US president, George Bush, prayed together. Blair answered: "No Jeremy. We do not pray together."
In a statement, Tony Hall, the director general of the BBC, said: "This is a particularly poignant moment for me, because I have known Jeremy and relished working with him since the day I joined the BBC in 1973. And I am therefore better placed than most to know what a remarkable job he has done at Newsnight.
"His is a rare and dazzling talent. He has a unique ability to create moments of real discomfort for politicians and memorable delight for audiences. For that cussed brilliance and much more besides, the BBC and our audiences will always be in his debt."
James Harding, the BBC's director of news, said Paxman had become the "great lion of BBC journalism" and would be sorely missed.
"Jeremy has led from the front: fearless, aggressive and persistent. He never failed to ask the difficult questions and always refused to accept glib or deceptive answers. Of course we will miss him but he has set standards for our journalism that the rest of us must follow.
"We accept his decision to move on but I think it is fair to say that the only people really celebrating his decision will be the politicians and public figures he has so often and so brilliantly held to account."
It is thought that Paxman may present some programmes for rival broadcasters, although his agent declined to comment. Despite the forthcoming general election, there are no plans for him to do any other programmes at the BBC at the moment other than University Challenge – although the corporation said it would be open to working with him on more shows.