The Margin
Last Updated: March 24, 2021 at 2:32 p.m. ET First Published: March 24, 2021 at 12:52 p.m. ET
Some people are bringing up the former president's history with women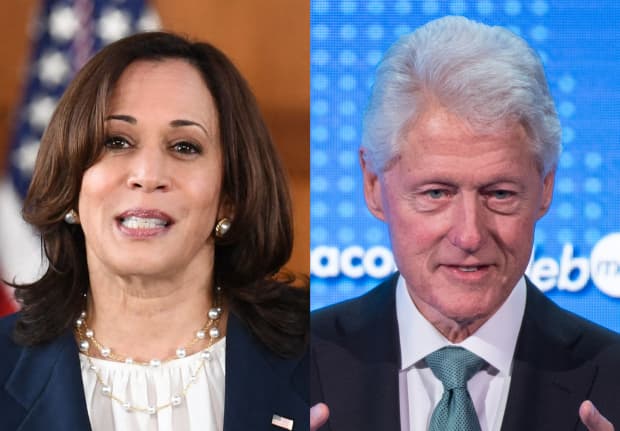 Vice President Kamala Harris is poised to talk with former President Bill Clinton about women's empowerment and the pandemic's impact on women.
Getty Images
Vice President Kamala Harris and former President Bill Clinton are scheduled to discuss empowering women and girls in the U.S. on Friday — and many people on Twitter have some thoughts about that, to put it mildly. 
A Politico reporter tweeted on Tuesday night that the country's barrier-breaking first female VP will talk about the welfare of women with the former Democratic president, who was impeached by the House in 1998 on grounds of perjury and obstruction of justice over his sexual relationship with a White House intern. Clinton was later acquitted by the Senate. 
The talk scheduled for Friday afternoon is described in a Clinton Foundation press release as a "one-on-one conversation" on "the impact of the COVID-19 pandemic on women, and empowering women and girls in the U.S. and around the world." 
Many readers questioned whether Clinton was the right person to talk about women's well-being, however, which led the former president's name to trend on Twitter TWTR, -3.44% overnight Tuesday into Wednesday, drawing some 50.5K tweets. And the backlash coincided with Equal Pay Day on Wednesday, which is a date dedicated to raising awareness of the gender pay gap. 
Even Sean Spicer, a former White House press secretary under Donald Trump, couldn't resist piling on — despite his own former boss also drawing allegations of sexual misconduct.
But Clinton supporters pointed out that the former president also made moves that did help to empower women, such as nominating the late Ruth Bader Ginsburg to the Supreme Court. 
Neither the vice president's office nor the former president's team were immediately available for comment.
The Clinton Foundation sent the following statement by email: "For 20 years under the direction of President Clinton, the Clinton Foundation has worked to empower girls and women around the world. The Clinton Global Initiative has launched thousands of commitments to improve lives: empowering more than 13 million girls and women through job and leadership training; improving maternal and child health care access for more than 114 million people; and increasing opportunity for women in STEM education and careers."
The virtual panel between Harris and Clinton, which is being hosted in partnership with Harris's alma mater Howard University, is scheduled for Friday at 3:25 p.m. ET.
This article has been updated with a response from the Clinton Foundation.