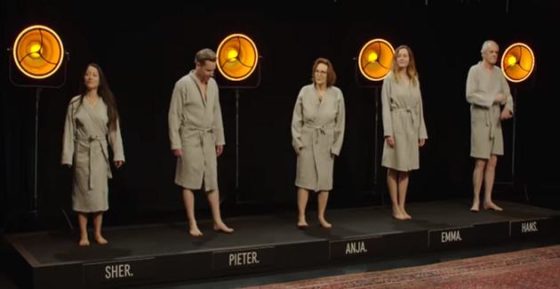 Still images from the program before participants undress
A children's television show that promotes physical positiveness, in which naked adults answer children's questions, was controversial before it aired, and politicians joined the fight.
The program is based in Denmark Ultra Smy Dirt Jet (Ultra Strip Down) This is currently the second season.
Show called Gewoon Bloot In the Netherlands (simply naked), it consists of a number of adults of all shapes and sizes answering questions from children aged 10-12 on themes such as embarrassing, shaving and waxing certain body parts. It has been.
Social media has responded from "disgusting" to "educational," and politicians are also speaking out.
Denk MP Tunahan Kuzu said the program was "ridiculous" and far-right FvD leader Thierry Baudet was "approaching the promotion of pedophilia" and urged followers to email broadcasters NPOs. did.
"Gewoon Bloot is not normal and should not be normal," said Kees van der Staaij, leader of the fundamentalist Protestant SGP, and announced that his party would raise the issue in parliament.
Even in Denmark, the far right has blamed the series with Peter Scarlap, a key member of the right-wing Danish People's Party. Ultra strip down "Stolen our children". However, the series was successful and won the Best Children's Program Award at the Danish Television Festival in 2019.
Children
The reaction of the Dutch kids who previewed the show was from "This is not a show I need to see" to "It's good to know that others are worried about the same thing." It varied from "I felt a little uncomfortable at first".
According to presenter Edson da Glasa, a more realistic view of the body promotes a more positive self-image. "The purpose is to teach children that not all bodies are different and not all are perfect," he told broadcaster NOS.
Elsbeth Reitzema of the Rutgers Sexual Health Foundation, who helped develop the series, distorted the reality of Photoshop and semi-porn images that children watch daily on TV and the Internet, and this program is a good way for parents to break their subject. Children who said there could be.
NTR, the public television station that broadcasts the show, said the show was "very carefully produced."
"The kids knew exactly what would happen and could always say how they felt during the program. (..) We expected a bit of a fuss. Nobody. But I don't think this is for kids, it's okay. It's up to the parents to decide if the kids can see it, "said the spokesman.
The first Dutch sex education television show featuring nudity Open Embrute, Broadcast in 1974. Doctor Collie, 2013 and 2015 also led to congressional questions.
First episode of Gewoon Bloot It will be broadcast by NTR on March 21st.
Thank you for donating to DutchNews.nl
The DutchNews.nl team would like to thank all the generous readers for their donations over the last few weeks. Your financial support has helped extend the scope of the coronavirus crisis in the evenings and weekends and keep you up to date with the latest developments.
DutchNews.nl Was free for 14 years, but without the financial support of our readers, we cannot provide fair and accurate news and features about everything in the Netherlands. Your contribution makes this possible.
If you haven't donated yet but want to donate,
You can do so through Ideal, credit card or Paypal.
Source link Children's TV shows featuring naked adults heat and annoy politicians