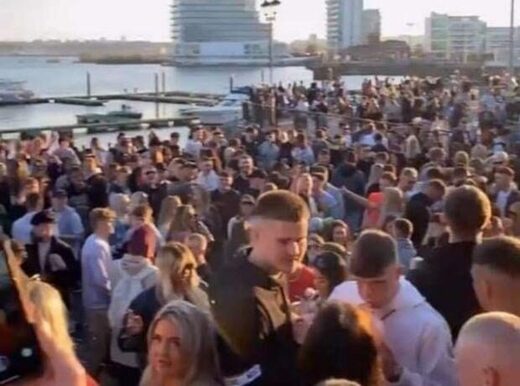 © Gareth Morgan on Twitter
MASSIVE crowds gathered in Cardiff Bay on Good Friday with no respect for Covid restrictions, with some passers-by suggesting the crowd sang songs in opposition to the Welsh Government rules.
Hundreds were photographed this evening crowded outside the Welsh Parliament and the Pierhead Building.
Videos posted on Twitter show people singing and dancing, with some saying the gathering is akin to a rave.
BBC Radio Five Live reporter Mark Hutchings said "police were keeping a low profile at the side of the Senedd" when he passed at 8pm, adding: "Hundreds of people gathered. Calm, if noisy, at the time, though
no social distancing
. I imagine there'll be a bit to clear up in the morning."
On Tuesday police officers were injured after gatherings in Cardiff Bay and a knife was found as missiles were thrown.
Cardiff council leader Huw Thomas said those involved were "selfish idiots".
The Vale of Glamorgan Council also said visitors had piled into their resorts over the
weekend
, with many littering and showing general rudeness. It led to the council asking those people to stay at home this Easter weekend.
Comment:
Note that many of these gatherings, technically banned under lockdown restrictions, are on the increase. Some are protest related but it would appear that a rising number are actually just young people meeting friends in parks to enjoy the warm weather.
London:
Leeds:
Nottingham:
The above scenes bring to mind the theory that, following lockdowns, people are anxious to find some outlet to relieve the tension that they've been under. The UK has been suffering harsh, rolling lockdown restrictions for over a year now and so one can imagine the tension that has built up is significant. One just hopes that there won't be a repeat of last years events with this energy being channeled into pointless and
divisive
avenues, such as with the BLM riots:
History and psychology predict protests and riots after lockdowns