Stand up for the facts!
Misinformation isn't going away just because it's a new year. Support trusted, factual information with a tax deductible contribution to PolitiFact.
I would like to contribute
Join us LIVE May 10-13 for a virtual festival of fact-checking with Dr. Anthony Fauci
Our first-ever virtual fact-checking festival will feature Dr. Anthony Fauci to talk about the COVID-19 pandemic. You'll have a chance to hear him live and ask questions. (AP)
If Your Time is short
United Facts of America: A Festival of Fact-Checking will bring together leading fact-checkers, journalists, health care professionals and technology leaders for four days of discussion about the role of facts in our democracy, the spread of misinformation surrounding the COVID pandemic and how we all can better spread the truth to our friends and constituents in times of crisis.
 
Featured speakers include Dr. Anthony Fauci, Sen. Mark Warner, D-Va., Georgia elections official Gabriel Sterling, CNN's Brian Stelter, author and mental health counselor Steven Hassan, Dr. Dan Fagbuyi, PolitiFact Editor-in-Chief Angie Holan and more.
 
Early-bird registration is available for $25 through April 9.
Facts took a bit of a beating in 2020. Let's turn the page and celebrate the truth! United Facts of America, brought to you by PolitiFact and the Poynter Institute, is a celebration of fact-checking featuring some of the most important voices in media, health care, politics and technology. 
Over 10 hours of virtual programming, you'll hear from expert fact-checkers from PolitiFact, the Washington Post and FactCheck.org, doctors on the front lines of the coronavirus pandemic and political and technology leaders trying to counter the spate of misinformation that lives online.
And we'll talk with mental health counselors and experts about how we all can better share the truth with our friends and constituents in times of crisis. 
Get tickets now to access four days of forward-thinking conversation about the role of facts in our lives. 
This virtual festival is for everyone interested in fact-based expression, civic engagement and the role of facts in a free society. Come celebrate facts with us!
Tickets
Early bird general: $25 (ends April 9!)
General ticket: $50 (April 10-May 10)
VIP experience: $100 (includes a private virtual happy hour with CNN's Brian Stelter and small group break-out sessions with PolitiFact fact-checkers)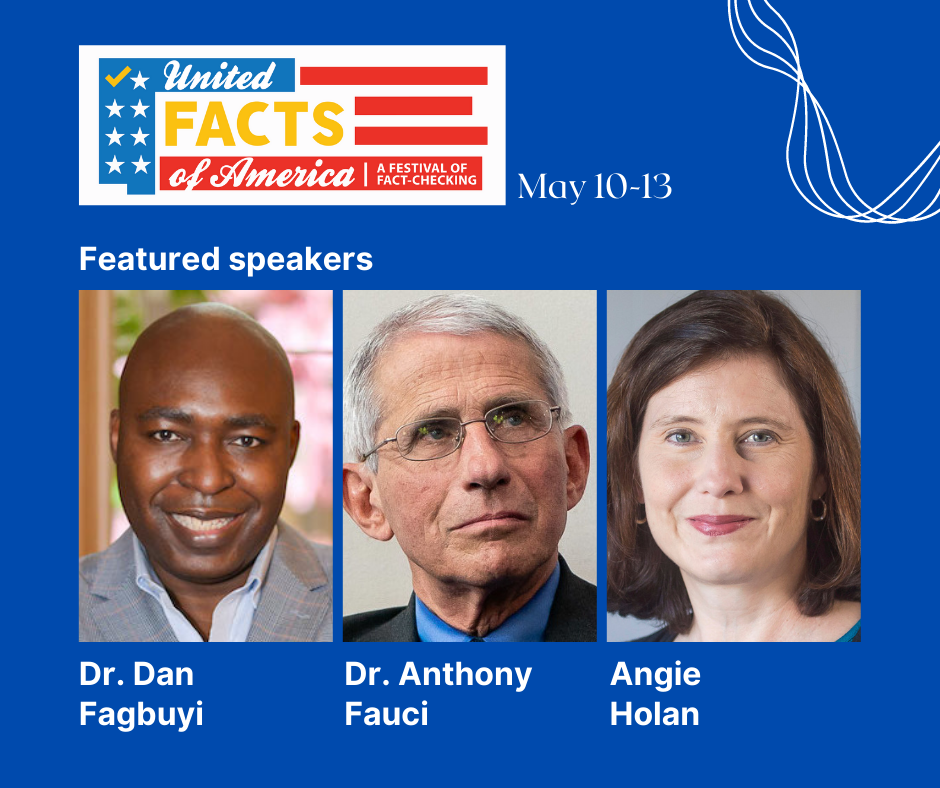 Schedule preview
Each day of the festival features more than two hours of lively, thoughtful conversations about facts. Days are broken down by theme: democracy, COVID-19, technology and culture. More speakers will be added as they are confirmed.
Monday, May 10: Facts and Democracy
3-6:30 p.m Eastern time
Tia Mitchell, Washington correspondent for the Atlanta Journal Constitution, interviews Gabriel Sterling, the Georgia elections official at the center of countering misinformation surrounding the 2020 election in his state. 

Josie Hollingsworth, PolitiFact audience engagement editor, interviews "Wildland" Mike Clark, the firefighter who went viral last year on TikTok debunking claims about the California wildfires.

Heaven Taylor-Wynn, MediaWise multimedia reporter, interviews Angie Holan, editor-in-chief of PolitiFact, Glenn Kessler, editor and chief writer of the Washington Post's Fact Checker, and Eugene Kiely, director of FactCheck.org. 

VIP Exclusive: Angie Holan, PolitiFact editor-in-chief, interviews Brian Stelter, anchor of CNN's "Reliable Sources," and the chief media correspondent for CNN Worldwide.
Tuesday, May 11: The COVID Infodemic — with keynote Dr. Anthony Fauci
11 a.m.-1 p.m. Eastern time
Joie Chen, Poynter senior faculty and adviser, interviews Dr. Daniel B. Fagbuyi, known as "Dr. Dan" by his patients, an ER physician, biodefense expert, chief medical officer and war veteran who provides strategic leadership in public health literacy and disaster preparedness.

Katie Sanders, PolitiFact managing editor, interviews Dr. Anthony Fauci, the director of the National Institute of Allergy and Infectious Diseases and a leading voice on COVID-19. 

A discussion about COVID-19 misinformation with Shefali Luthra, health and gender reporter at The 19th, and Elisabeth Rosenthal, editor-in-chief of Kaiser Health News.  
Wednesday, May 12: Big Tech, Big Questions
11 a.m.-1 p.m. Eastern time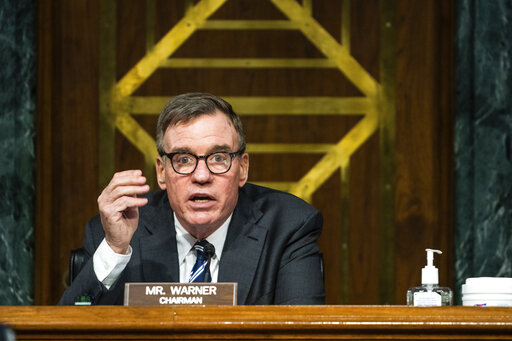 Aaron Sharockman, PolitiFact executive director, interviews Sen. Mark Warner, D-Va., (pictured) about Section 230 and possible internet regulation in the U.S.
Thursday, May 13: Speaking the Truth — with keynote Steven Hassan
11 a.m.-1 p.m. Eastern time
Hear from Steven Hassan, an American mental health counselor who has written on the subject of mind control and how to help people who have been harmed by the experience. Hassan has written about Q, and the cult of personality surrounding Donald Trump. 

Researchers Ethan Porter and Emily Thorson discuss the efficacy of fact-checking. 
Bios for all speakers are available here. More speakers will be added as they are confirmed.
Members of PolitiFact's Truth Squad are offered discounted tickets. Truth Squad members should have received an email with more details. If you're unsure about your membership status, contact [email protected]